Guys...... I've got a confession. I'm a cheese hound. I LOVE cheese. Always have. But...... boy does my booty hate it. Especially when I'm trying to shed pesky pounds for my wedding. Or you know, be healthy or whatever. Enter...... the quinoa and veggie quesadilla.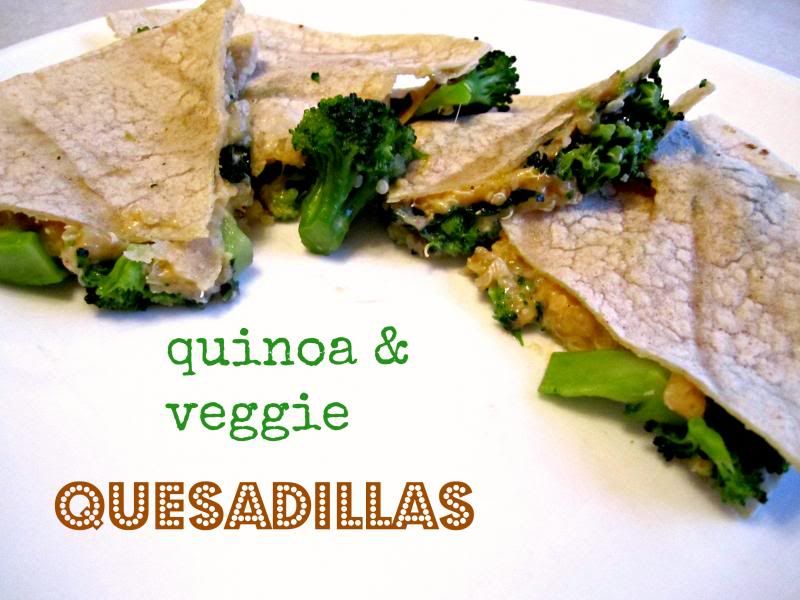 To be honest, I wouldn't call this healthy. But the added veggies and quinoa sure do make that slutty quesadilla we all know and crave a whole lot healthiER!
Here are your ingredients, for about 5 small quesadillas
1/2 cup dry quinoa
1 TB olive oil
1 cup onion, chopped
2 cloves of garlic, finely chopped
1 cup broccoli, chopped
1 cup kale, chopped
1 jalapeno, chopped with seeds
1 cup sharp cheddar cheese, grated
1 TB cumin
1 tsp salt
1 TB pepper
10 small corn or flour tortillas
Directions:
Cook your quinoa, according to package directions. If you have bulk, usually you rinse the quinoa, and place in a sauce pan with twice as much water as quinoa. 1/2 cup quinoa with 1 cup water. Bring to a boil for 15 minutes or until water is absorbed. Take off heat, cover, and let sit for 5 minutes. Fluff with fork.
Heat olive oil over medium high heat in a large skillet and saute onion. About 3 minutes. Add garlic and veggies and saute until broccoli is al dente, about 10 minutes. Take off heat.
In a large bowl, mix together cooked quinoa, veggie mixture, grated cheese, and spices. Place mixture atop 5 small tortillas, and top with another tortilla, to create 5 whole quesadillas. Grill in your skillet to brown tortilla and melt cheese, about 2-3 minutes on each side.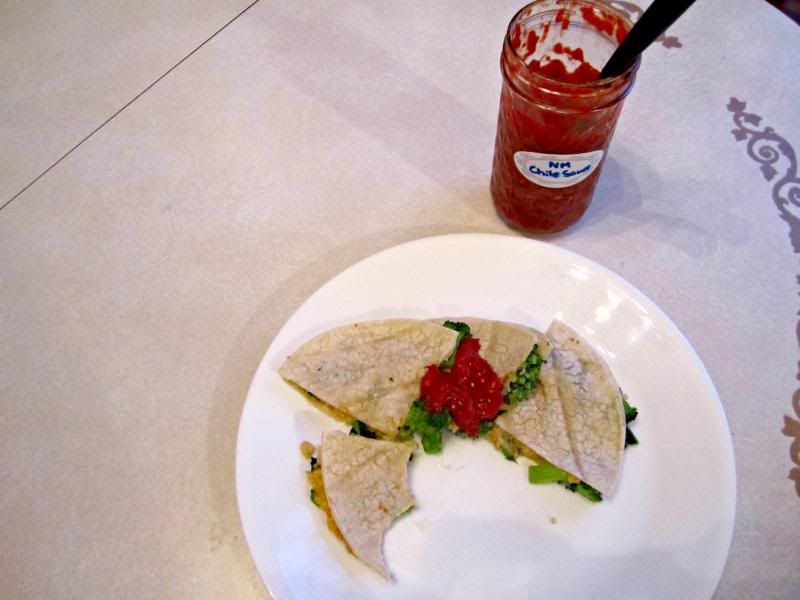 Serve hot with some homemade chili sauce (I've got a delish recipe for this stuff coming your way soon!) or salsa. No sour cream for this lady, but avocado would have rocked.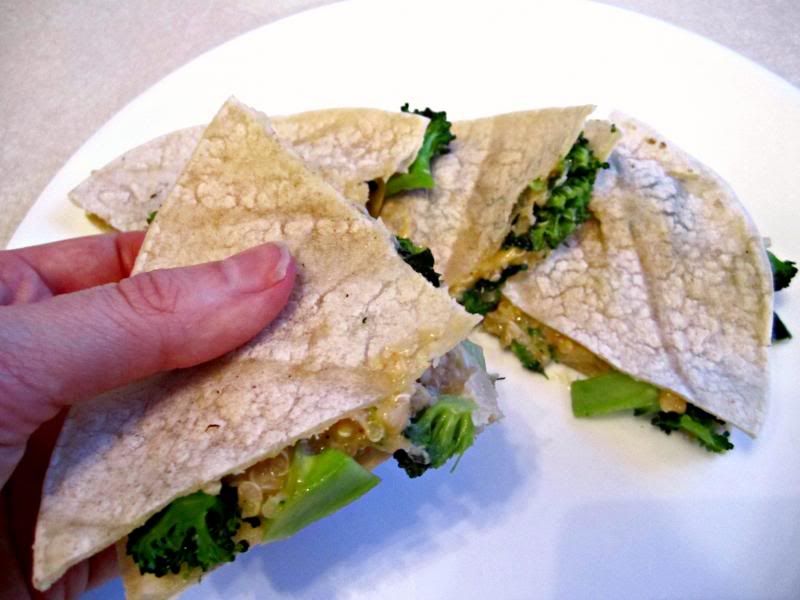 The quinoa actually really works in this dish! It sort of melts into the cheese, which I like because quinoa can be pretty bland.
Now, I'm off to start climbing some stairs near my apartment, 330 in total. Ugh. Trying to get this done every day though. :) Wish me luck.
Have a great Wednesday night friends!
Trish