Check this out friends...........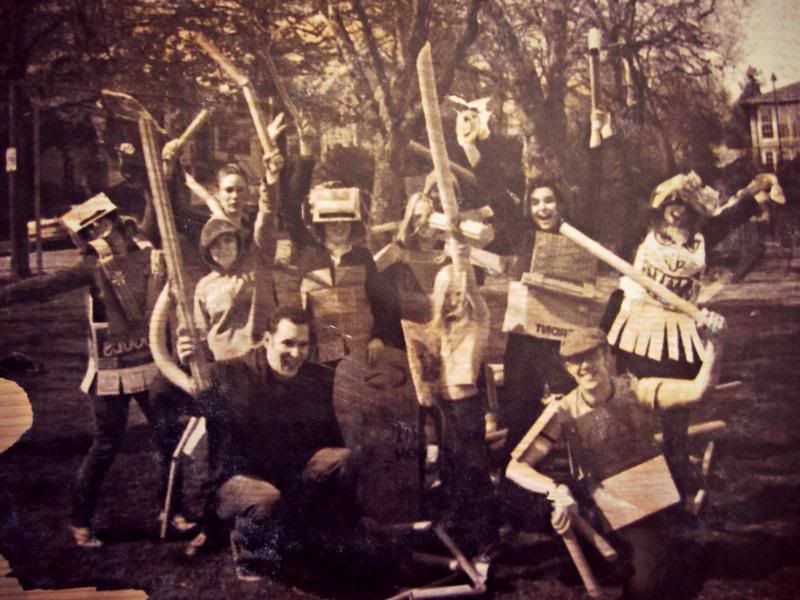 This is piece of wood. No joke. Yes, it's also a photo of a bunch of nerds really cool people playing battle with cardboard armor. Heh.
I've been seeing this photo to canvas thing floating around, and heard that you could use the same gel medium for most porous surfaces. My friend Maghag's bday was a few months back, and I jumped at the chance to turn this gem of a pic into a work of art.
Here's what you need to make one of your own: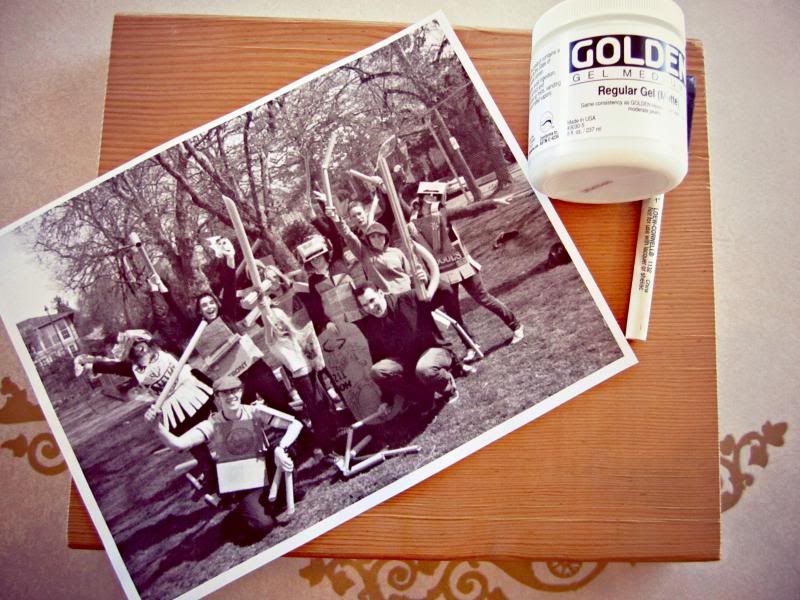 1. A photo in the size you want, printed with an inkjet printer. This was the most difficult part for me!!! Not only could I not seem to size the picture correctly, but I don't have an inkjet printer. And turns out, neither does ANY FREAKIN WHERE in Seattle! We had to use Jerdy's mom's dinosaur to get the job done.
2. A very smooth piece of wood.
3. A gel medium. You can find this at any craft store. Just make sure you do NOT use ModPodge.
4. A foam brush.
5. A paper towel or cloth towel.
6. Water
First, take your gel medium and evenly spread it over the wood surface and the photo side of your paper. Place the photo, photo side down, on the wood and smooth as well as you can starting from the middle and working your way out. Leave it to try overnight.
The next day, take a damp towel and blot your photo, getting it damp, but not soaking wet.
Start rubbing off the paper with your fingers. This process takes FOREVER! Once you think you're done, there's more dry white paper. Don't rub too hard here, you don't want to rub off the transfer from the wood.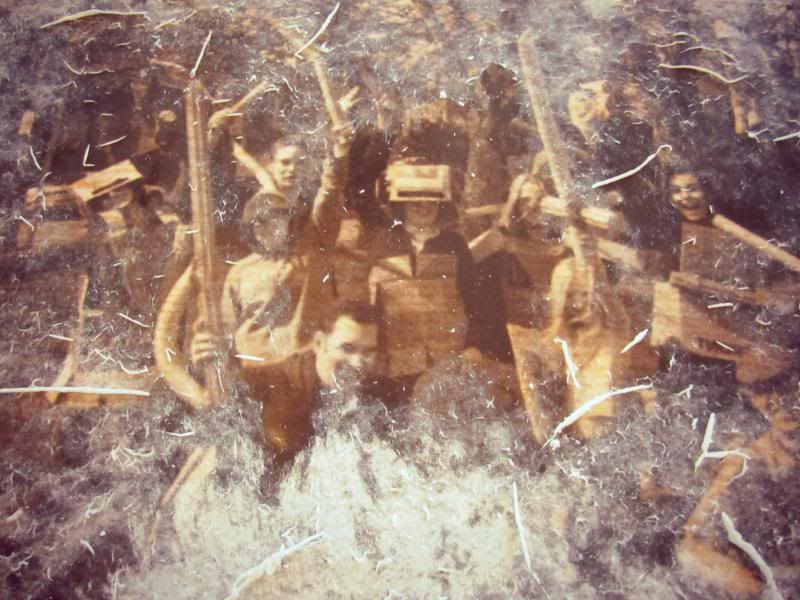 Keep wetting and rubbing until you are satisfied with how much paper is gone. It may take a couple of days, because you'll notice more paper after it's dry again.
I had Jared seal this with conversion varnish at his work, but a spray can lacquer will work wonders for preserving this.
This is how it looked totally finished!! I love it, and I'm pretty sure Maghag does too. By the way, that's me on the very far left. See the frilly skirt I made myself with a beer box???? We are so cool. NOT!
Let me know if you try this out friends! I'd love to hear some cool tips on how to make these really neat.
Trish