Are you thrown for a loop with this one????! Cause I sure was!
Tomato and APPLE sauce? What the what? I found this recipe in
Lidia's Favorite Recipes
by Lidia Bastianich, a cookbook I won from Aub at
Kitchen Vignettes
. I knew this had to be made....... like now. She makes hers with spaghetti, but we had linguine on hand so....... voila.......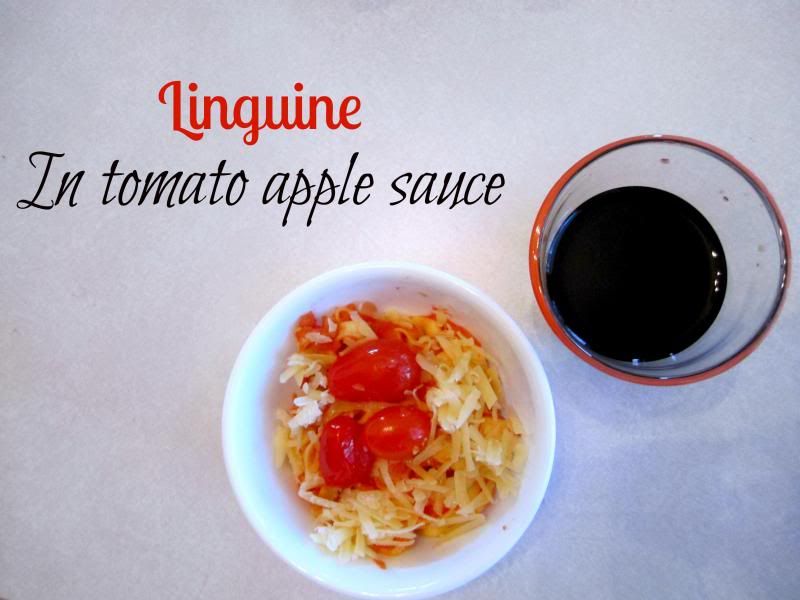 This recipe was pretty darn easy, and only took about half an hour to make the sauce. Here's what you need to make about 6 servings:
3 cups canned Italian plum tomatoes, preferably San Marzano (one 28-ounce can)
6 tablespoons extra-virgin olive oil
2 large stalk celery, cut into 1/4-inch dice (about 1 cup)
1 medium onion, chopped (about 1 cup)
1 teaspoon kosher salt
1 lb tart firm apple (Granny Smith)
1 lb linguine or other pasta
1 cup freshly grated grana padano or 1 cup parmigiano-reggiano cheese, plus more for passing
Directions:
Pour the canned tomatoes into the food processor or blender; puree until smooth.
Add 4 tablespoons oil into a large skillet or saute pan; set over medium heat, and strew the chopped celery and onion in the pan.
Cook and stir the vegetables for about 5 minutes, until they wilt and start to caramelize.
Stir in the pureed tomatoes, season with salt and heat to a bubbling simmer.

Cook, stirring occasionally for 5 minutes or so.

As the tomatoes perk, peel and core the apples, and remove the seeds.

Shred them, using the coarse holes in a shredder or grater.

When the tomatoes have cooked about 5 minutes, stir the apples into the sauce.

Heat again to a simmer, and cook the sauce, uncovered, for about 15 minutes, stirring now and again, until it has reduced and thickened and the apple shreds are cooked and tender.
Meanwhile, bring a large pot of salted water to a rolling boil, drop in the spaghetti, and cook it until barely al dente.

Lift the spaghetti from the water; let drain for a moment, and drop it into the warm sauce.

Toss pasta with the sauce for a minute or two, until all the strands are coated and perfectly al dente.

Turn off the heat, sprinkle the grated cheese over the pasta, and toss well.

Drizzle over it the remaining oil, toss once again, and heap the pasta in warm bowls.

Serve immediately, passing more cheese at the table.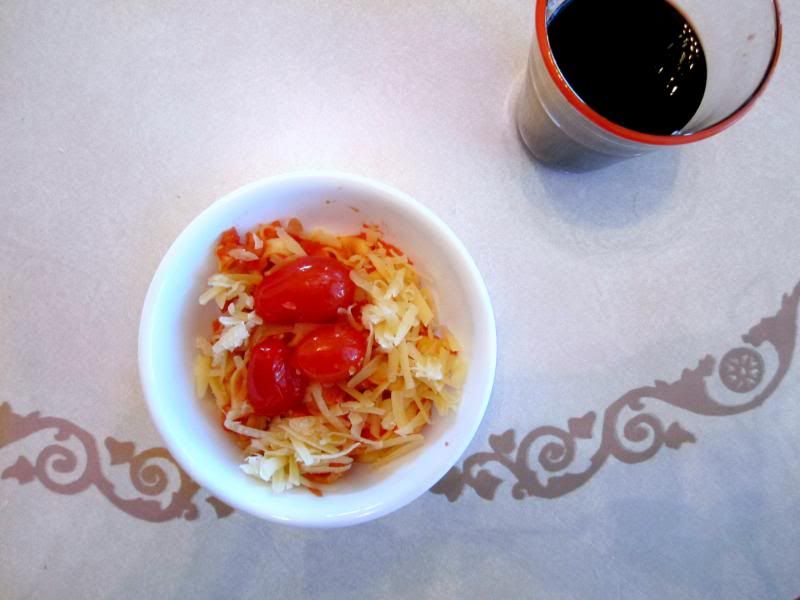 We actually cheated and bought pre pureed san marzano tomatoes. Not sure if this is a sin to this recipe or not, but it still ended up REALLY interesting and nothing like I've ever created. The apple flavor really started to shine the next day with the leftovers.
Have you tried any new recipes lately??? I'd love to hear them!
Trish