Whoa dudes! Where the heck did I go???? I took an unplanned little hiatus there this week, but I'm BACK! With a vengeance!
Is anyone else swimming in rhubarb right now? I LOVE the stuff! A week or so back I made some rhubarb syrup intended for home made soda. Next thing I knew, ice cream and sorbet were added and some serious magic happened. Oh. My. Freakin. God this was delicious.
First, you need to make your syrup. This syrup recipe can be used for pretty much any fruit, or maybe even a vegetable. It makes about 2 cups.
3 cups rhubarb (about 3 stalks) cut into 1 inch pieces
2 cups sugar
2 cups water
Bring all of the ingredients to a boil in a small saucepan. Turn down the heat and simmer for about half an hour, stirring occasionally. Take off heat and let cool completely. Strain through a fine mesh sieve and mash the rhubarb goo with a potato masher to get all of that syrup out. That's it!
The remaining rhubarb goo is SUPER sweet, but pretty darn amazing with some yogurt or used as a jam over the next couple of days.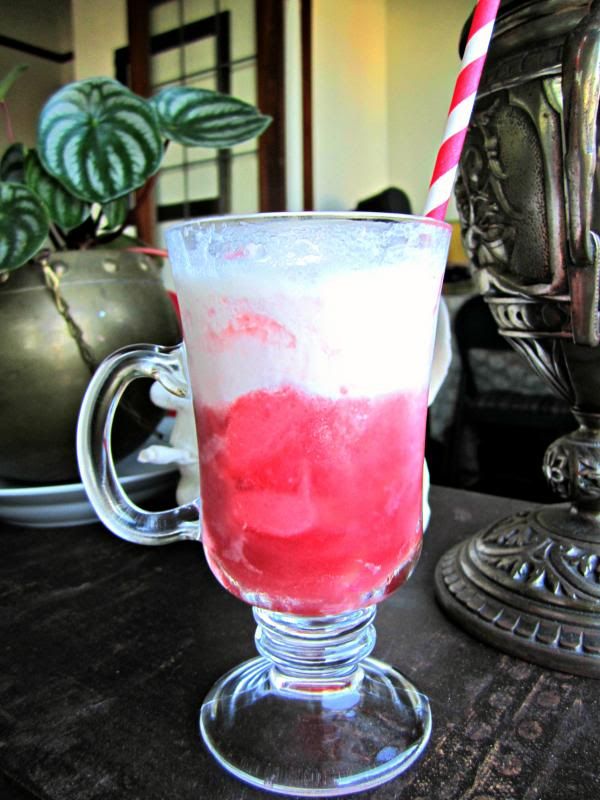 OK, now for the float!!! Go get some vanilla ice cream, strawberry sorbet, and some soda water. Place a scoop of each in a glass. Fill your glass half full with syrup and top with soda water.
Add a cute little straw and you have just about the best thing you'll eat all spring. I demolished mine in about 2 minutes, and it's taking up all my willpower to not let this engaged lady eat 10 a day of these!