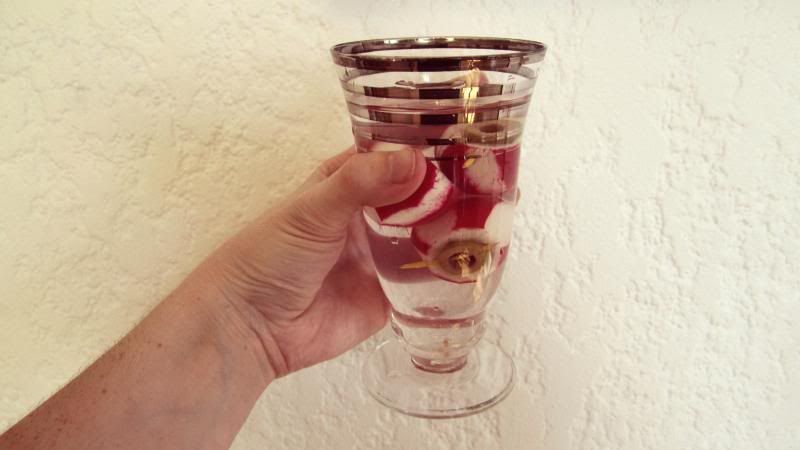 Happy almost Halloween friends! It's no secret around here that I adore ALL things Halloween. Scary, cheesy, ridiculous, candy-filled, neon orange, bloody, whatever it may be, I LOVE IT!
I borrowed
this
idea from the good ole' Martha powers that be. These are spooky but cute little martini garnishes made out of radish and olive. BUT...... they look like eyeballs! YES!
Here's how:
To make 6 eyeballs, you will need 6 radishes, 3 pimento stuffed green olives, and 3 toothpicks.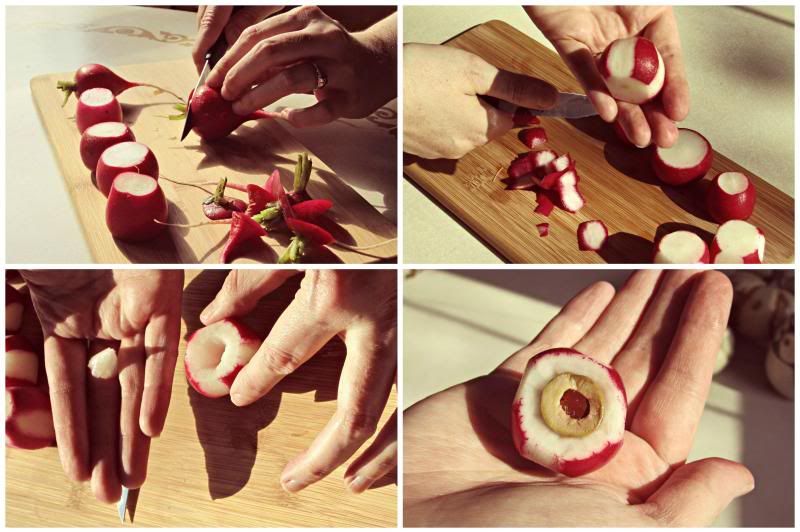 1. Wash and cut the stems and bottoms off of your radishes.
2. peel stripes in the skin, making a red and white striped "eyeball."
3. Dig a small pit in the larger cut side of your radish, large enough for half an olive to burrow into.
4. Cut your olives in half and push into the pit hole in the radish, cut side up so the pimento shows well.
5. I ended up having to break toothpicks in half and use them to hold the olives in place. You may or may not have to do this.
These really only took about 10 minutes to make, and are such a cute and festive way to get a little creative for your next cocktail this season. Or maybe freak people out by looking as creepy as I do here. ha!
Got any plans for Halloween? I'm thinking about dressing Tootsie up as "sexy puppy." She is about 16 in dog years at this point. Seems appropriate eh?
Have a great week friends!
Trish