Hey girlfrans. What's shakin? Ready for some Thanksgiving grub next week? I KNOW I AM!
I've been trying to go a bit more vegetarian the last weeks before the gut bomb that begins next week. Sometimes a lot of meat can just leave me feeling.... like I really need a salad! So, in my efforts, I stumbled across
this
mushroom bolognese recipe that promised to be as hearty as a meat sauce without the meat. Cha! Right! But no really, it definitely lived up to its word and I just had to share it. I normally tweak recipes a bit, but this was followed to a T, and the ingredients and instructions below are listed exactly as the website lists them.
Sidenote before I begin: You don't actually have to serve this with a cocktail glass of water and a weird piece of bread. What was I thinking when I styled this shoot!?
Hearty mushroom bolognese:
Serves 8, total time: 1 hour
Ingredients:
1 small onion, coarsely chopped
1 medium carrot, coarsely chopped
1 celery rib, coarsely chopped
1 medium parsnip, chopped
1/2 small turnip, coarsely chopped
1 pound king oyster mushrooms
1/4 cup extra-virgin olive oil
1 ounce dried porcini mushrooms
1 small Parmigiano-Reggiano cheese rind, plus 1/4 cup freshly grated Parmigiano-Reggiano
Pinch of crushed red pepper
1 teaspoon minced rosemary
1 1/2 pounds spaghetti, cooked until al dente and kept warm
4 tablespoons unsalted butter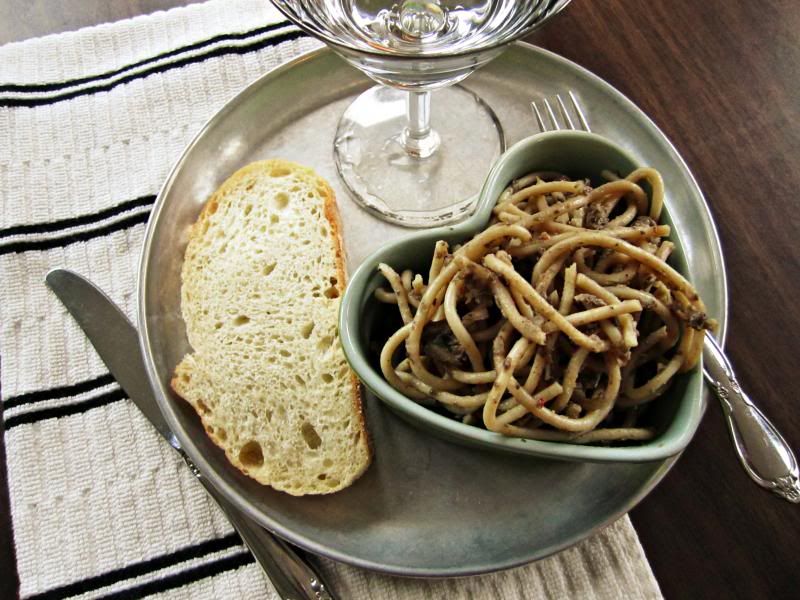 Make:
In a food processor, pulse the onion, carrot, celery, parsnip, turnip and king oysters until finely chopped. In a large pot, heat the oil. Add the vegetables, season with salt and pepper and cook over moderate heat until softened, 20 minutes.
In a bowl, cover the porcini with 1 1/2 cups of boiling water; let stand until softened. Drain, reserving 1 cup of the water. Rinse and chop the porcini, add to the vegetables and cook until fragrant, 10 minutes. Add the wine, rind and red pepper; cook until the wine evaporates. Add the reserved porcini water, cover partially and cook over low heat, stirring, until thick, 25 minutes. Add the cream, rosemary and 1/4 cup of grated cheese and simmer for 5 minutes. Discard the rind.
Add the warm pasta, butter and 1 cup of water to the sauce and toss, stirring until the pasta is well-coated. Serve.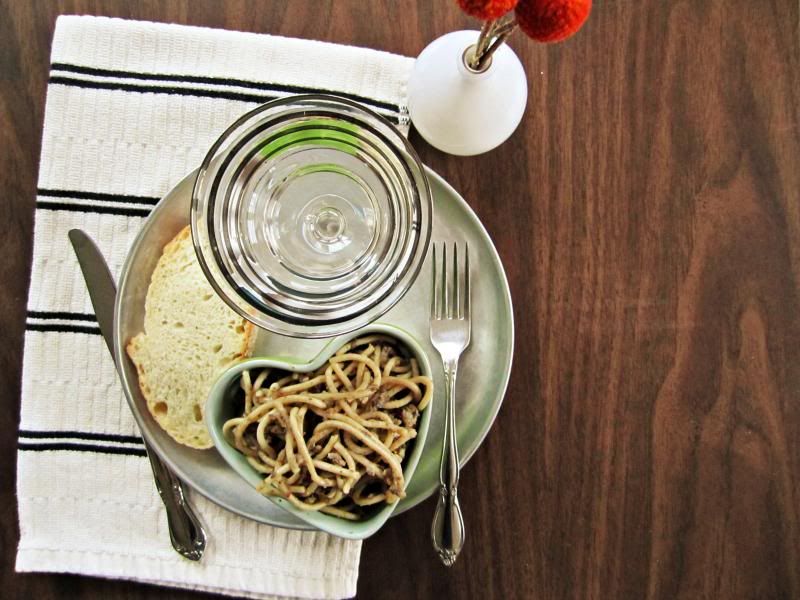 I love this pasta! One of the best I've made in a while.
Hope you enjoy girlfrans! And let's raise our martini glass of water and plain bread to next week's ultimate feast! Yippee!
Trish