Guess what my favorite food is guys?
A: Thanksgiving
When Jerdy told me he wanted a cheesecake for his scrumptious birthday treat this year, I just about died. Ohmygodohmygodilovecheesecake. I had originally planned to make a chocolate oblivion truffle cake, but hey, always Thanksgiving, my bday, and Christmas to make treats for this year. :)
I tried and tried to find the perfect cheesecake treat on the web, but just never found what I was looking for. I took
this
recipe, and altered it a bit, to create orange spice cheesecake with gingersnap crust and cranberry topping.
Gather:
For the crust:
1 1/2 cups gingersnap cookie crumbs (I used nabisco)
3 Tbsp. sugar
1/3 cup butter, melted
1 tsp. cinnamon
For the cheesecake:
4 8oz pkgs cream cheese, softened
1 cup sugar
1 tsp. vanilla
rind of 1 small orange
2 tsp. cinnamon
4 eggs
For the topping:
2 cups fresh cranberries
1 cup sugar
2 cups water (divided)
Make: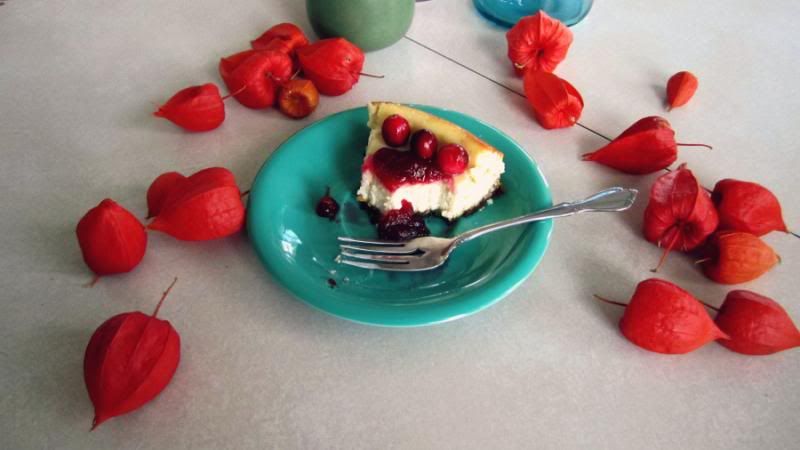 Heat oven to 325 degrees F.
Using your hands, blend gingersnap crumbs, butter, sugar, and cinnamon. Spread along the bottom of a 9" springform pan, and press until you have a nice firm base crust.
Start beating the cream cheese in a mixer on low. Slowly add in ingredients through cinnamon, until well blended.
Add eggs 1 at a time, making sure to blend each before adding another.
Turn mixer up to medium-high, and beat some air into that batter! Only for about 10 seconds.
Pour mixture over crust, and spread evenly
Bake 55 minutes, or until center looks almost done.
Combine cranberries, sugar, and 1/2 cup water in a small saucepan. Heat slowly, until cranberries burst and sauce begins to thicken. Add the remaining water and cook until sauce is desired thickness. Test the sweetness here, you may need more sugar.
Let sauce cool, and then refrigerate.
Once cheesecake is pulled out of the oven, separate the cake from the pan using a knife.
Let cool, then remove the side of the pan from the cake.
Refrigerate for 4 hours.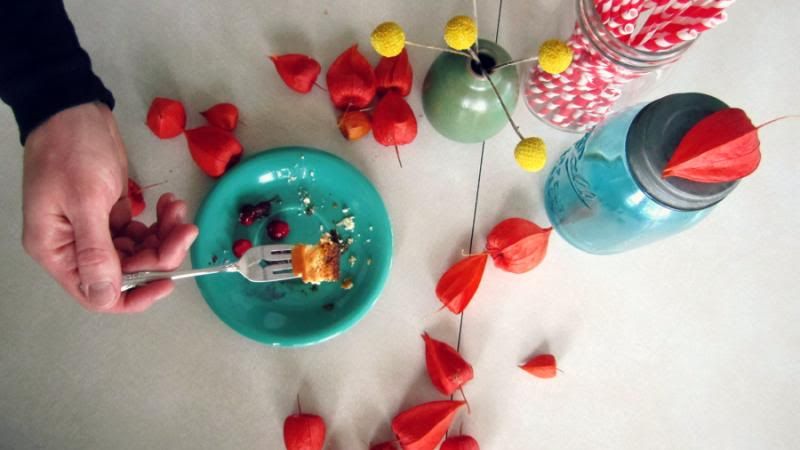 Serve at the table with a festive Thanksgiving centerpiece! Top cheesecake with the cranberry topping and garnish with a few fresh cranberries. This cheesecake won't last long in your house, I promise.
Cheers to Thanksgiving month!
Trish