Hey friends!
I'll admit, I've been a bit turned off by the amount of pumpkin spice EVERYTHING this year. I think we've all been giggling about those hilarious "pumpkin spice has gone too far" jokes and vids.
This one is freakin fantastic.
BUT....... I do still love this festive, seasonal delight. Hard to beat a great pumpkin bread, or latte, or cheesecake, or..... ok..... so many good things. This will be my ONLY pumpkin spice post this year, I promise. :) (maybe.)
I tried out Kinsey's
pumpkin spice body scrub
this past weekend! I followed the recipe exactly, and, well, mine ended up more like a pumpkin pie body oil mask. Still, I kind of love it.
Ingredients:
1/2 cup pumpkin puree
3/4 cup coconut oil
1 cup brown sugar
1/2 tsp cinnamon
1/4 tsp ground nutmeg
1/4 tsp ginger
1/8 tsp cloves
Make:
Melt the oil in a small pan on low. Mix all of the dry ingredients in a bowl. Add the pumpkin to the melted oil. Slowly incorporate the oil into the dry mix, until you have a dry, sort of scrubby paste. I just added all of it at once and created more of a dough rather than a dry scrub. Let cool completely, and use within a few weeks.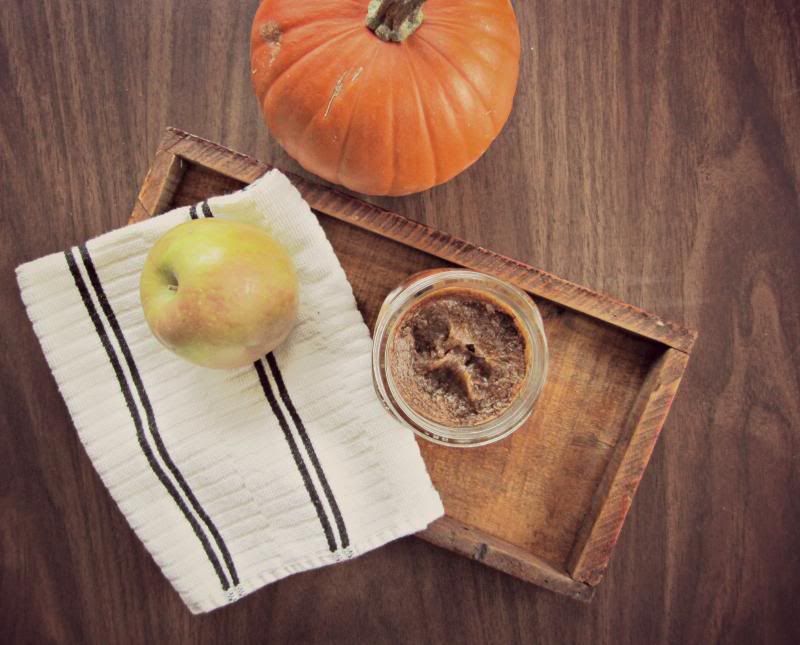 Although mine is more of a body oil rather than a scrub, it smells delicious and makes my skin uber-soft! I kind of love this messy, festive goodness. Even if I do have to clean out my shower a bit after using it.
Pumpkin spice will eternally make me think of fall, which is why I still love it, but a few tastes and I'm good for the season I think. What about you guys, are you sticking around on the pumpkin spice bandwagon? Or are you jumping off screaming for mercy?
Have a "pumpkin spice" Wednesday! heh heh.
Trish