Happy Thanksgiving week! Happy Christmas begins week! Happy 'you don't have to feel bad for listening to Christmas music already' week!
I just got back from spending the weekend with my grandparents who live a few hours away. This definitely marks the beginning of holiday season this year. Doesn't it seem like it came super late this time around? I think so anyways......
Well..... unfortunately (or maybe fortunately), Jerdy and I don't cook a Thanksgiving dinner. We have about 4 cooked for us by friends or family between October and December, but we never make our own. I always try to make a "mini" Thanksgiving meal, or some kind of meal that sort of resembles a Thanksgiving dinner, but for only two people. This year, I found
this
recipe for Thanksgiving turkey sliders. Dudes, this recipe had me at "cranberry mustard." SOLD! The recipe calls for using a grill, but I just used my skillet, and they turned out great.
Here is what you need to make 16 little sliders, packed full of that Thanksgiving flavor goodness:
Total time to make: 1.5 hours
8oz fresh cranberries
1/4 cup honey
1/4 water
2 Tbsp spicy brown mustard
4 garlic cloves, minced
3 Tbsp butter
3/4 lb large assorted mushrooms, tough stems removed, sliced
1/2 yellow onion sliced into rings
salt
pepper
2 lb ground turkey
1/2 cup chopped red onion
2 Tbsp fresh thyme leaves
1.5 Tbsp chopped fresh sage leaves
3/4 cup mayonnaise, divided
16 slider rolls
2 cups packed arugula leaves
First, make that incredible cranberry mustard. The shining star of the sliders.
Heat cranberries in a small saucepan with honey and water over medium low heat. Cook until berries burst and sauce thickens, about 10 minutes. Let cool, stir in mustard.
While the cranberry sauce is cooking, cook your mushrooms and onions. Saute mushrooms and onions in the butter in a small frying pan until browned, about 8 minutes. Season with salt and pepper, set aside.
Mix turkey, onion, herbs and mayonnaise in a bowl. Sprinkle with salt and pepper. Shape into 16 small patties, about 3 inches each. Create a dimple in each to avoid dry burgers.
Heat oven to around 325, and heat your slider buns until nice and warm.
Heat 2 Tbsp olive oil in a skillet pan. Fill the skillet pan with burgers, you will need to cook these in batches. Cook about 3 minutes, or until browned, and flip. Cook through, but do NOT press on those patties! That will pour all of the juice out of them.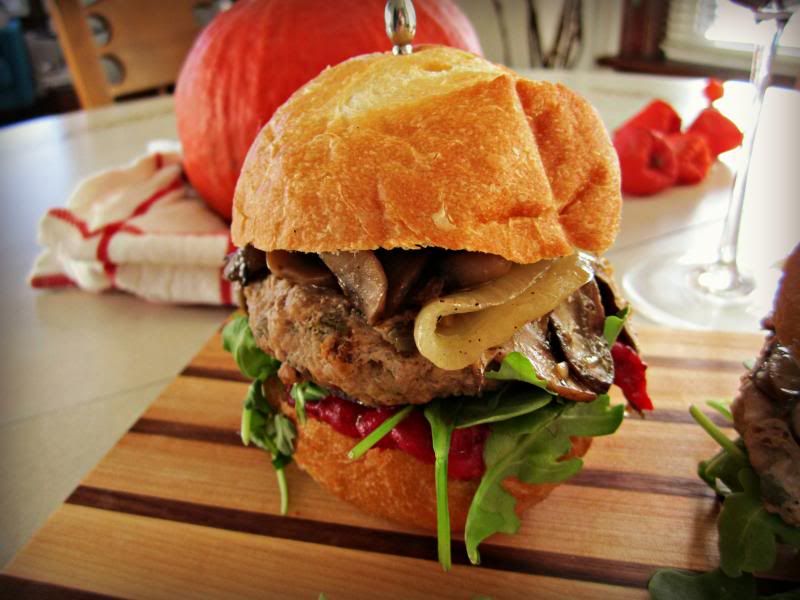 Assemble your burgers. Cranberry mustard on bottom, then arugula, then burger, then top with mushrooms and onions.
Happy Thanksgiving friends! Now go blast those Christmas tunes I know you've been dying to hear!
Trish