Last minute gift time! Still struggling to find a gift for someone on your list? I've got you covered.
It's beautiful. It's festive. It's tasty. It'll get you drunk. It's............ INFUSED BOOZE! With Andes peppermint candy. It's Andes candy peppermint vodka.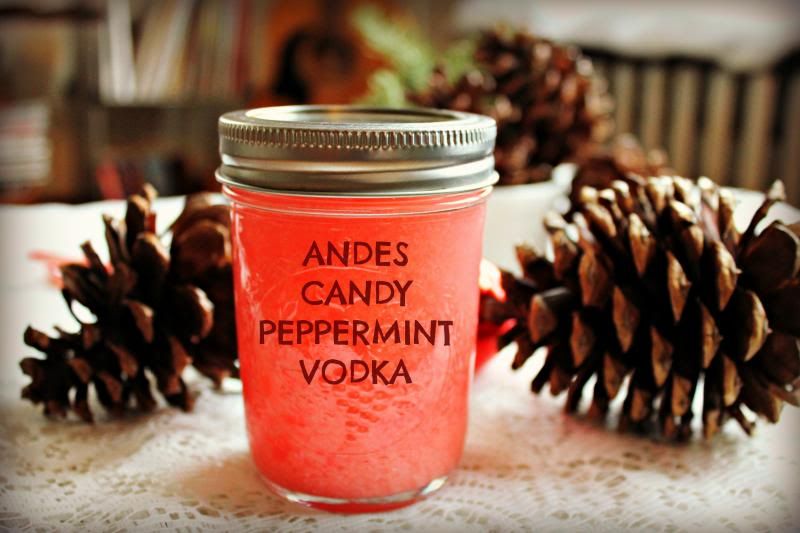 I've been off of the infused booze bandwagon for a while now. I just wasn't into it over the fall, which is strange because there are SO many fall goodies to infuse with. Maybe because I've been drinking nothing but hot toddies for the last 2 months. Or maybe because I'm mega lazy. Both totally true. I know I've mentioned it before, but I am totally obsessed with the Ghirardelli peppermint bark. I've tried other brands, and it just isn't the same. What is in that shit? Christmas crack. It's Christmas crack. I really wanted to make all kinds of goody drinks and treats with it, but it seems like such a waste doesn't it? To cook with the best of the best Christmas candy made with Christmas crack? Yes. SO..... I used the next best thing, Andes candies. I got a box for my bday from my best bud in the mail. Love her that girl, and so, this ones for you!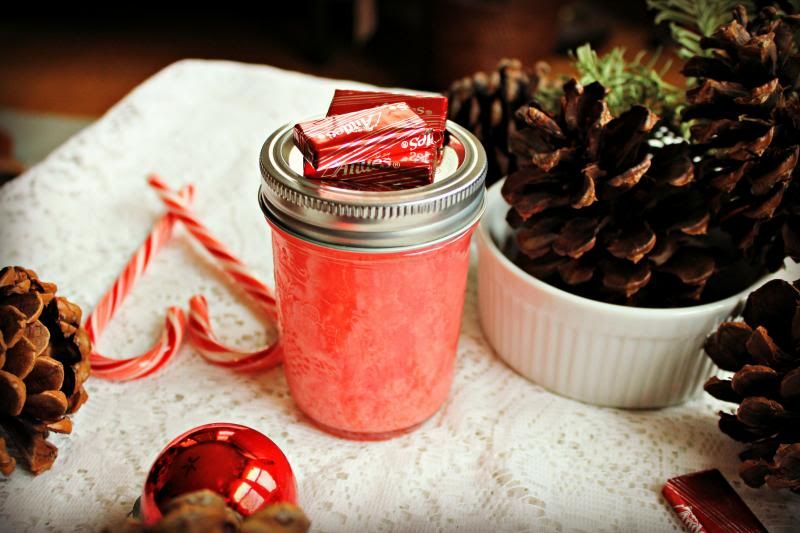 This seriously couldn't be easier guys. Here is what you need:
24 Hours
A jar with tight fitting lid
8 oz vodka
10 Andes peppermint candies, broken up into thirds or halves
Fine mesh strainer
Cup or bowl to transfer strained vodka
Your fave Christmas crack candy to snack on (just kidding.)
Place your pieces of candy into your jar. Pour the vodka into the jar and put the lid on tight. SHAKE SHAKE SHAKE! Shake some more, then shake some more. Leave on the counter and give a good shake every time you see it. 24 hours (or so) later, strain through a fine mesh strainer into a cup or bowl.
Pour your vodka into the jar of your choice as a gift! Decorate with ribbon, candy cakes, and a red sharpie. Maybe make a little heart with those teeny candy canes. Whatever you want. OR... keep for yourself and make some rad cocktails at home. This vodka is really pepperminty with a hint of chocolate candy. If you want more of a thicker liquor, add more candies and let them completely dissolve into the vodka for a few days.
Add to hot chocolate! Add to coffee! Make a peppermint cranberry martini! Go berzerk. It's Christmas!
Happy Tuesday friends.
Trish