Say what? ANOTHER bourbon cocktail on this little bloggie?
Oh yes.
Guess what happened to me this past week friends? I got my first DSLR. HOLY SHIT! I've been pretty broke the last year or so, but Jared surprised me on my birthday with money for one. I just about peed. My new love. Sorry Jerdy.
I think I am going to call her Maraschino, since these are the first photos I really took with her. I still have absolutely no idea how to use her, but seriously guys, the difference between Maraschino and my point and shoot is just incredible.
Now, on to the cocktail (looking super fab in this christmas decor, oh yes), the maraschino cherry apple cider with bourbon! Spiced and spiked apple cider with a hint of cherry juice. Um..... why have I not been making these all season?! I just threw this together, but my guess is there is a name for this out there somewhere. Let me know if you find it!
Ingredients and tools:
Single shot glass
Cocktail shaker with strainer
Cocktail glass
Ice
1 shot maraschino cherry juice
3 shots unfiltered apple cider
1 shot bourbon (make it good bourbon folks, it's Christmas!)
Ground cinnamon (optional)
Optional for garnish:
Cinnamon stick
Maraschino cherries
Apple slice
Cute straw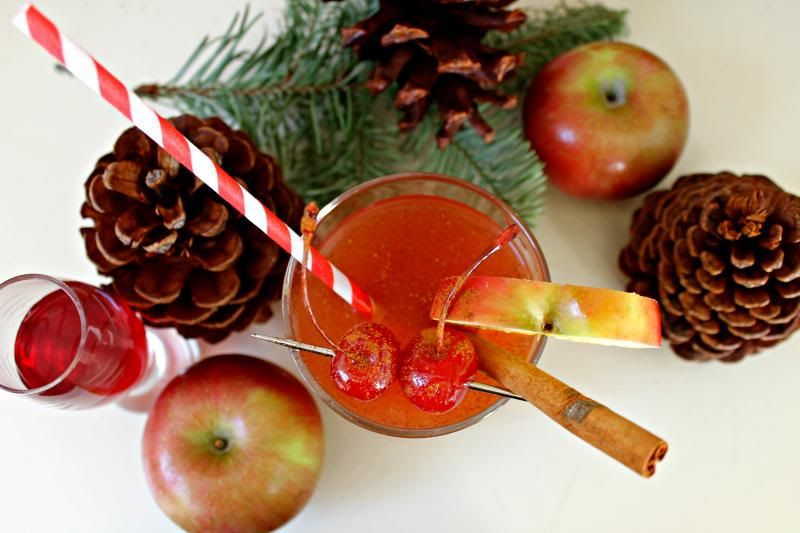 Make this darling!:
Fill a cocktail shaker with ice. Pour in the cherry juice, cider, and bourbon. Shake well and strain into a cocktail glass. Garnish with cherries, a cinnamon stick, a slice of apple, a straw...... get creative! Then top it all off with a dust of ground cinnamon.
You could easily make this a warm cider cocktail also. Curled up on the couch with your Christmas tree lights going and The Grinch on the TV. Nothing better in my book. Maybe White Christmas. Or Home Alone. Well..... you get my drift.
Trish