Whoooooooo doggies my friends, I have fallen in love. With toddys.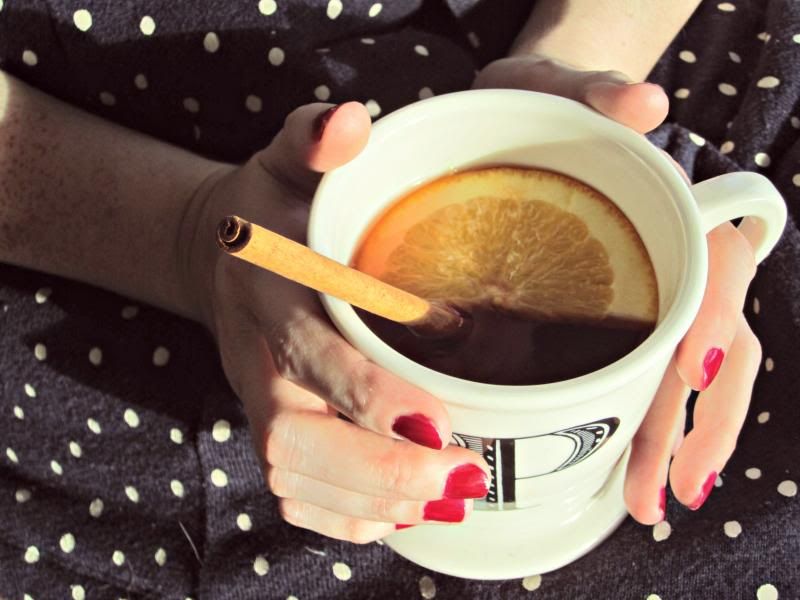 I celebrated my 32nd birthday a couple of days ago (ouch!). On a Monday (double ouch!). It's really odd saying that I'm 32. I just won't think about it......
Anyways...... la-di-da......... This 32 year old had never experienced the amazing comfort of a hot toddy until a few months ago. I know. I'm a nut job. Now I'm totally hooked. I find myself surfing the web with a big grin on my face when I find new toddy recipes. Again... NUT JOB! One of my favorite recipes so far is this
orange ginger toddy
I found on Shutterbean. Ermahgerd.
First, make your ginger syrup (courtesy of
Mrs. Stewart
)
Here is what you need for the rest:
8 oz. hot water
1 orange spiced tea bag
1- 2 tablespoons ginger syrup
1 oz. rye (add more if you're feeling fun)
A squeeze of fresh orange juice
1 slice orange
cinnamon stick
Steep your teabag for about 4-6 minutes. (So, 5 I guess huh)
Remove the tea bag and add all of the other ingredients, stirring with a cinnamon stick.
A few things I changed from the original: I steeped the tea longer to get a bolder flavor, used rye instead of bourbon, added some fresh orange juice, and stirred with a cinnamon stick.
Possibly the best thing you'll make all season.
Here are a few more I'm dying to try:
Hot apple ginger toddy
Chai rum toddy
Whiskey vanilla hot toddy
Have you had any great toddys (toddies?) this season? I'd love to hear them! I think the original whiskey, honey, lemon is still my fave. So far......
Trish