Okay dudettes! It's 2014! I am soooooooo ready. Seriously, the holiday season just got away from me! I'm ready for the "out with the old, in with the new" vibe that January's got going on. I've got a gazillion resolutions too, maybe I'll stick to at least one eh?
I actually made this a few months back, but never got around to posting it. The pictures kind of blow, but the recipe will BLOW YOU AWAY! See what I did there?
It's classic, it's chicken, it's teriyaki, it's totally loveable, and I love it. SO hard to beat a great chicken teriyaki recipe. One of my fave foods for sure. We are not really a "make a recipe again" kind of household, but this teriyaki sauce is my go to now. Super quick and the best I've made at home. That's saying a lot. I've attempted buckets and buckets of Asian sauces. It's that good.
Classic Chicken Teriyaki, recipe found
here
.
Takes only 30 minutes and makes 4 servings.
Ingredients:
1 cup chicken stock or low-sodium broth
1/3 cup low-sodium soy sauce
4 6oz skinless, boneless chicken breasts, lightly pounded
2 large italian frying peppers, cut into 1/2in strips
Make:
In a medium saucepan, combine the chicken stock with the soy sauce, sugar, mirin and sake and bring to a boil over high heat, stirring to dissolve the sugar. Reduce the heat to moderate and simmer until the teriyaki sauce is reduced to 1/2 cup and syrupy, about 20 minutes.

Meanwhile, season the chicken with salt and pepper. In a large nonstick skillet, heat 1 tablespoon of the oil. Add the chicken and cook over moderately high heat, turning once, until browned all over and cooked through, 8 to 9 minutes. Transfer the chicken to a plate and let stand for 5 minutes.

Wipe out the skillet. Add the remaining 1 tablespoon of oil and heat until shimmering. Add the pepper strips and cook over high heat, stirring occasionally, until crisp-tender and lightly charred, about 3 minutes. Transfer the peppers to plates. Slice the chicken breasts crosswise and transfer to the plates. Drizzle the teriyaki sauce over the chicken and serve with rice.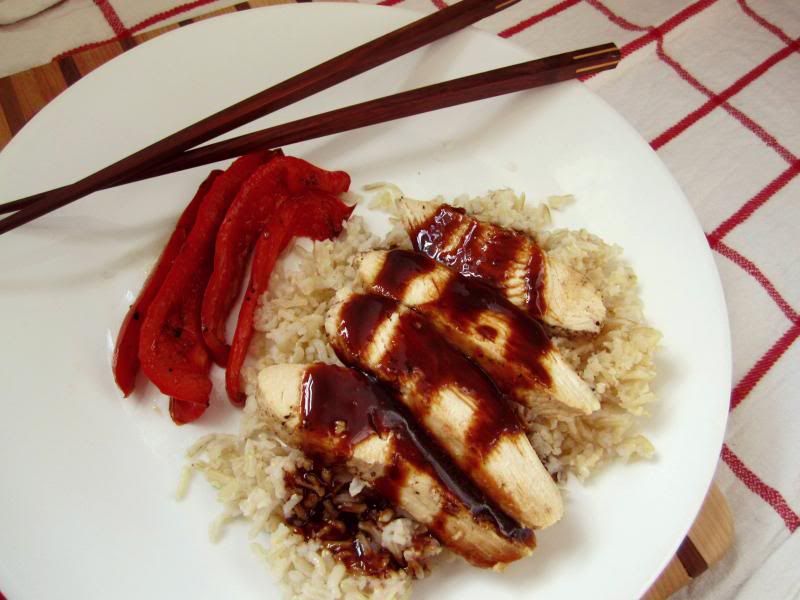 I know you are probably like, "but I just ate like crap for 2 months, I want a salad!" I'm totally like that too right now, but give it a week and give this at try. I dare ya.
Happy 2014 friends!
Trish