Hey friends!
I made a new(ish) BFF this January so far........ braising! If any of you out there have read
Michael Pollan
before, you know how you become a changed person after each and every book. He is one of my fave writers because he seriously makes you want to be a more ethical eater and healthier individual. Very inspiring, but I usually fall off the bandwagon about 6 months later. Keep those books comin! After reading his most recent book,
Cooked
, I discovered a need for exploring ways of cooking food I don't normally do. Braising was one of them. I gave it a whirl, and let me tell you, I'm hooked. I've never been a meat cooker. That's Jerdy's department (I know, I know, what are we, from 1950?). Braising allows even the worst cooks to create something totally spectacular. Spices blend together, stock becomes sauce, meat becomes tender, just from putting the right ingredients into the same pot and slowly cooking them together. Awesome.
This recipe is slightly adapted from
this
one, but with some extra herbs and such added.
Herby braised chicken thighs with carrots and potatoes
:
Serves 4
Total time: 50 minutes
Hands on time: 25 minutes
1 1/2 lb. skinless, boneless chicken thighs, about 4
Salt and pepper
Sweet paprika
2 Tbs. olive oil
1 red onion, finely chopped
1 lb. red potatoes cut into 1 inch cubes
8 carrots, halved lengthwise and then cut into 1 1/2 inch pieces
1 Tbs. plus 1 tsp. flour
,
or gluten free flour mix
2 large cloves of garlic, minced
1 1/3 cups low-sodium chicken broth
1/3 cup dry vermouth or dry white wine
1 Tbs. minced fresh thyme
1 Tbs. minced fresh rosemary
1 Tbs. minced fresh sage leaves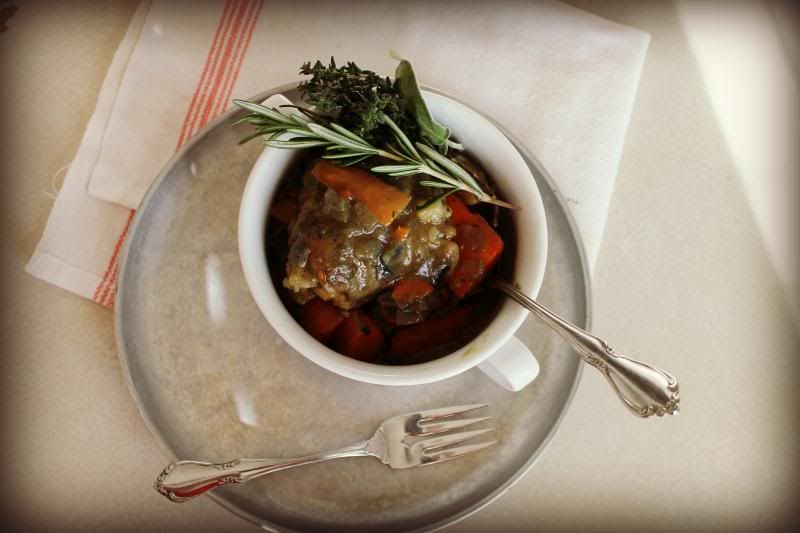 Season the chicken lightly with salt and pepper and then generously with paprika. In a heavy large skillet over medium-high heat, warm the oil. Add the chicken and cook until brown, about 2 minutes on each side. Transfer the chicken to a plate. Add the onion to the frying pan and stir. Add the potatoes and carrots. Sprinkle with salt and pepper and saute until the vegetables are beginning to brown, about 5 minutes. Add the flour mix and stir to coat. Gradually mix in the garlic, broth and vermouth. Bring to a boil, stirring frequently, loosening browned bits. Return the chicken to the pan and bring to a boil. Stir in herbs.
Cover the pan, reduce the heat to medium-low, and simmer until the chicken and vegetables are cooked through, stirring and turning the chicken over occasionally, about 25 minutes. Taste and adjust the seasoning. Divide the chicken and vegetables among 4 warmed plates or bowls. Serve.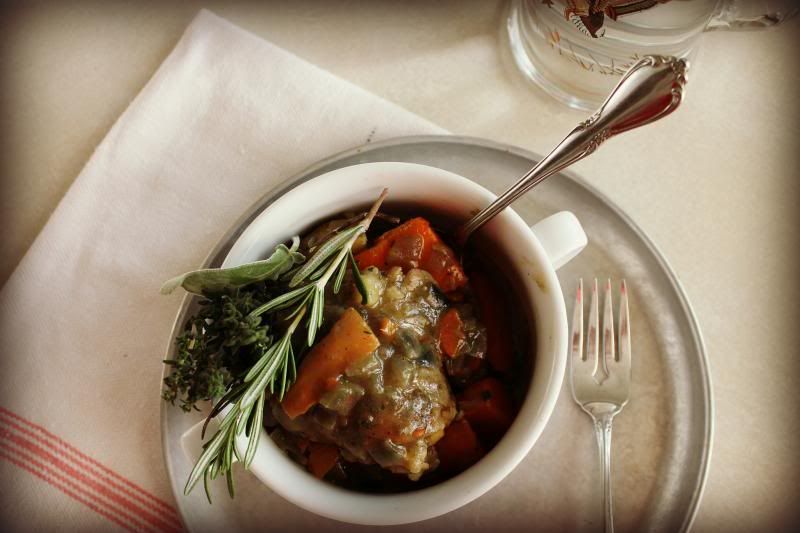 This recipe is pretty dynamite. This is definitely my new go-to way to make chicken. Huzzah!
Well, also since reading Cooked, I've become obsessed with probiotics. I ingest them constantly (I've even jumped on the drinking unfiltered apple cider vinegar train), and am super psyched to start my own sour culture soon to make my own bread.
Cheers to cooking like it's the 1800s! Before all this scary food modification mumbo jumbo came about, but that's another topic I won't go into here....... yet..... maybe.
Happy weekend!
Trish