Well friends, it's official. I have become a nutcase over
probiotics
. You know, that "good" bacteria that our bodies are composed of. Our millions of secret weapons against so many illnesses and digestion issues, not to mention pains and allergies. Abut a year ago (Christmas day 2012, actually), I ate shellfish after having been on antibiotics for a sinus infection. After getting severely ill with food poisoning, I found out that it could have killed me. Not only did the infection bacteria get killed, but so did all of my good bacteria that fights off bad bacteria. They had me on that shit for a month, so long that probiotic supplements didn't help, and I could't digest food well for months afterward. I actually stopped taking probiotic supplements, and began eating and drinking straight bacteria. Each morning I drink a Tbsp of unfiltered apple cider vinegar diluted in water. Now that it's winter, I've been drinking Korean honey lemon tea. In Korea, this tea is called
Yujacha
, and is traditionally made with Yuja fruit. It is taken to keep the body well and healthy, and prevent sickness. Apparently this can cure a sore throat like nobody's business! As the honey dissolves the lemon, it gets better and better, becoming a probiotic and vitamin C filled goody bag that you keep adding to all season long. Awesome.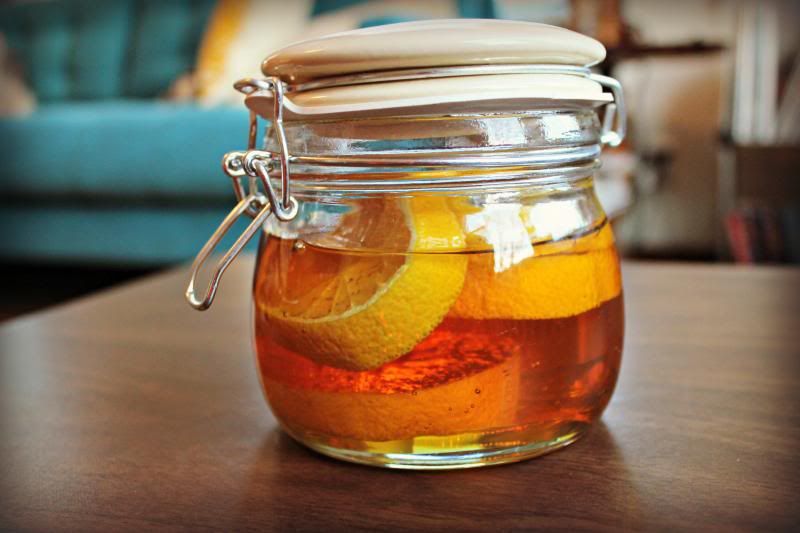 This photo was taken the day I started this tea base, about a month ago. Now, it's a foggy jelly like substance that I use to make a probiotic, vitamin filled tea. Unfiltered, raw, organic honey acts as a natural preservative, and the lemons slowly dissolve into the tea, making a dense, and incredibly healthy tea base.
Here's how: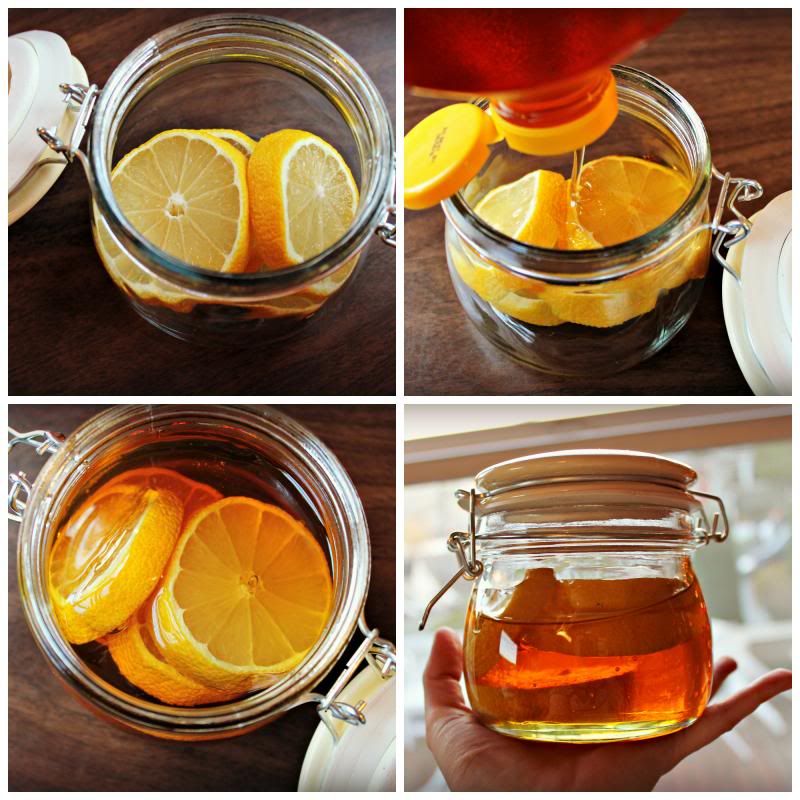 Fill a sterilized container halfway with clean, scrubbed lemon slices, seeds removed. Fill with raw, organic, unfiltered honey. Let sit in a cool, dark place for about a week. You could make this with filtered honey as well, but you won't get the probiotics, which is kind of the point.
Make your tea:
Put 2 Tbsp honey lemon tea base in an 8oz mug. Fill the mug with boiling water. Stir well and enjoy.
Refill your base with raw, organic, unfiltered honey. Add lemon slices each time you use a lemon, or squeeze the juice out of one. Just be sure that the lemons are completely submerged in the honey to avoid spoilage.
I gotta say, this is some of the best tea I've ever had. What's even more awesome is that it gets better and better the longer it sits. The lemons are still dissolving, and it just keeps getting better. This is really something that I wish I had known about years ago. Becoming a probiotic junky has helped not only my digestion, but I've noticed differences in my immune system and even my allergies.
Give this a try! Let me know if you do! You'll be hooked.... I promise.
Trish