Alright guys...... I'm back on the poptails train! If you've been following since, well, the very beginning, you might remember my obsession with poptails (or as Jerdy likes to call them, cocksicles. teehee). Here's a newbie recipe attempt for ya.
These COULD be your awesome attempt at a Valentine's day dessert for your beau, or your lady, or (at least one better be for) yourself. Chocolate + red wine + dessert = all you need for a rad Vday date. Yep.
I went the very milky chocolate route, but you could easily use dark chocolate. I prefer the creamy pops.
Just to butt in here, everything I'm typing is really making me want to say "that's what she said" really loudly. I have seriously deleted and rewritten these paragraphs like 3 times. It's a little hard (that's what she said!) to write a Valentine's day popsicle post without being REALLY immature. Just sayin.
Alright.....moving on.
RED WINE FUDGESICLES
Makes 6 large fudgesicles
Hands on time: 40 minutes
Total time: 12 hours
1 cup bold red wine
1-1/2 cups milk chocolate chips (I used Ghirardelli)
1 cup half and half
1/2 cup water
Heat the wine in a medium sized saucepan over medium heat for about half an hour, or until the wine has reduced to 1/2 cup. Stir in chocolate chips and continue to stir until the chocolate has melted. Stir really well, making sure that the chocolate has dissolved into the liquid. Stir in the half and half and water and pour into your popsicle molds. Place in the freezer for 1 hour. Take out of freezer and place popsicle sticks into your partially frozen pops. Place back in the freezer for about 12 hours or overnight. You can see from the photos that I put my sticks in too early. Oops. :)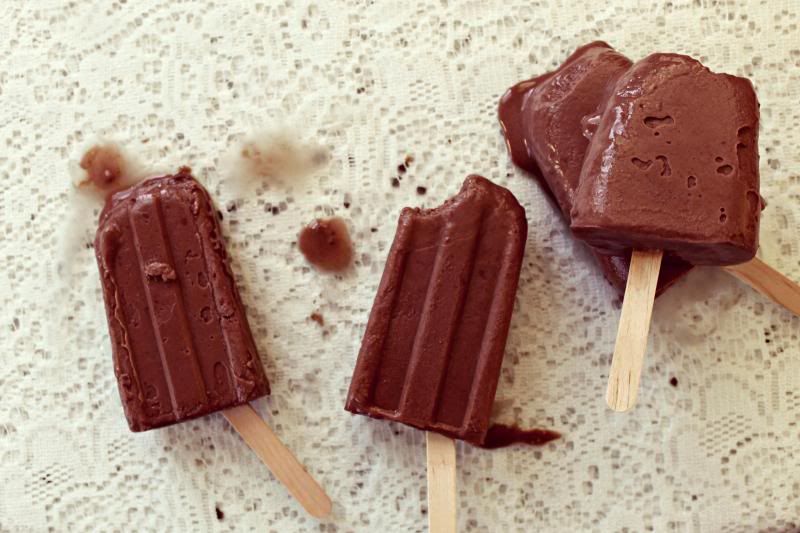 These are the popsicles after taking photos for about 5 minutes. Seriously these are some creamy delicious pops! I'm in love. As it should be for Vday.
Enjoy!
Trish