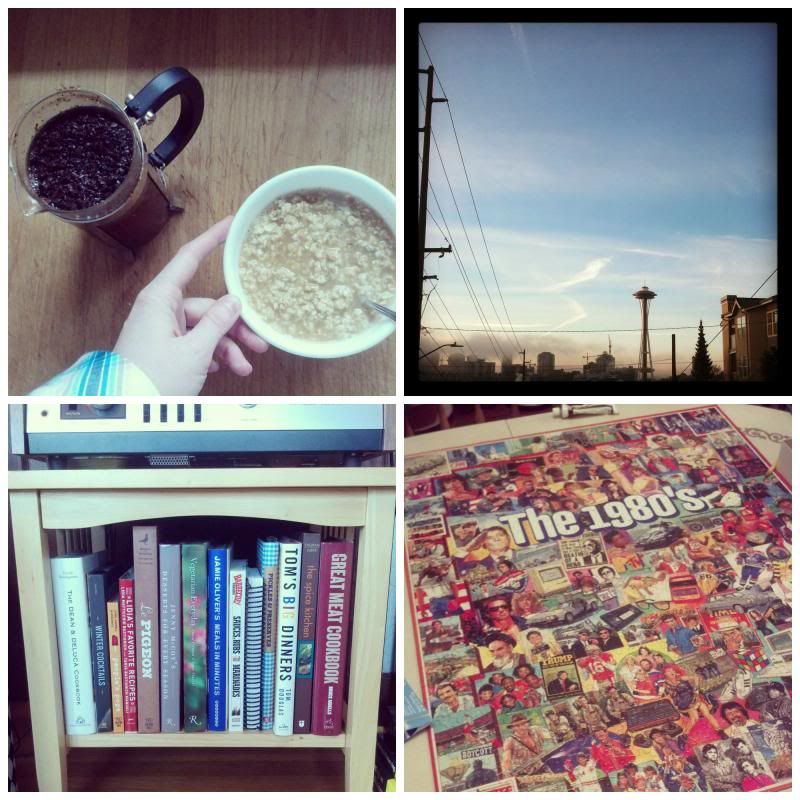 Hey dudes and dudettes. Enjoying your Sunday? Here are some snippets of my life according to
Instagram
.
I became a bit obsessed with instant oatmeal for breakast this winter. I mean, the sugary crap that tastes really good but is REALLY bad for you. We bought a case of it from Costco on a whim, and the only flavor left is the plain. Ick.
Seattle skyline on a January morning. Walking to work has it's ups and downs, this day was an up for sure.
I narrowed my cookbook collection down to just these books! Well..... almost. About 5 that didn't make it onto this shelf. Jerdy was NOT pleased. ha!
Puzzle time! I freakin love puzzles. I only allow myself one per year, because it is literally ALL I do until the puzzle is finished. I'm nuts. This 2000 piece puzzle took about 3 days.
Mrs. Roll has developed a love for being totally covered up by blankets. When we wake up in the morning it's hard to find her on her bed, she is so buried. What a weirdo.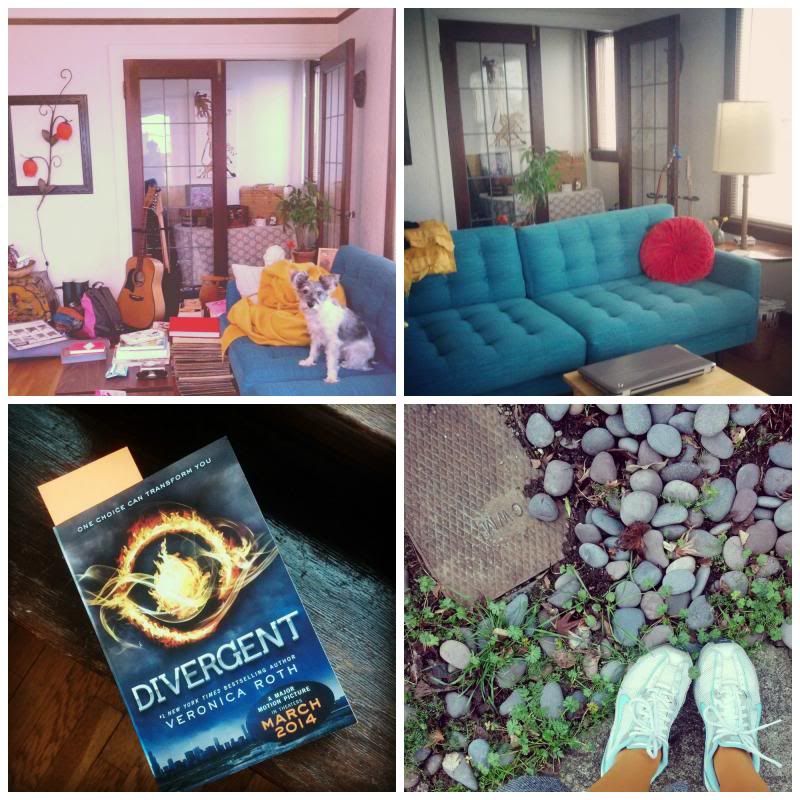 BEFORE: Jerdy and I rearranged our living room. It's about a 250sq ft space, so it's not an easy thing to do with as much crap as we have. We need a serious purge. Tootie was NOT into it, as you can see.
AFTER: Looks a little better eh? I'm totally digging it. And instead of purging, I bought a new pillow. Woopsies!
Currently reading Divergent by Veronica Roth. My BFF gave it to me as a Christmas gift and has been hounding me to start it. Finally did, and I'm almost finished. Speedy little read this one. I would say I like it, but not love it.
The sun came out this week. And the birds were chirping on my walk to work. The ground doesn't look disgusting and muddy like it has for the last 4 months. This makes me a happy girl.
Well, that's been my uneventful life this winter! I'm still visiting my grandfather in the hospital at least once a week, which has been emotionally draining and time consuming. I'm heading to visit him today, because I got a horrible case of fever and cough and haven't seen him in about 2 weeks. Fingers crossed that SOMETHING has changed with his condition. It's been 3 months at this point. Enough depressing shit....
JellyBones around the web:
I was featured on
Grimmricksen's Bookwork Wednesday
! Thanks Jennifer!
The Sparkly Panda
gave my
slutty french onion soup
a shoutout. Woop!
Links I'm digging:
How Sweet It Is added
meatballs to a grilled cheese
. Oh. My. Jesus.
Shutterbean stole my heart with her
cherry vanilla hot chocolate
. This lady is my hero.
Little Lady Little City took walnuts to a new level and made
a pie I'm dying to try out
.
Say Yes made
this adorable bracelet
with just some wire. Awesome.
Cooking Stoned got all MacGyver on
food scraps that regrow themselves
. I'm adding this to my to do list TODAY!
I've been thinking of doing a book dump giveaway. Give away all my read and used books to you lovely bloggers out there. Is that something you guys would be into?
Also wondering what you want to see on this bloggie! Any recipes you want me to try out? Any food or drink item you'd like me to get creative with? I'd love to hear what you want to see!
Cheers to a wonderful end of winter........ and transition into spring coming up.
Trish
P.S. Here I am on
Instagram
if you want to follow.