Whooooooo doggies it's cold outside! Seattle is seriously living up to it's rainy rep this week. SO. MUCH. RAIN! This calls for a soup celebration. A slutty soup celebration.
May I present..... slutty french onion soup. You're welcome.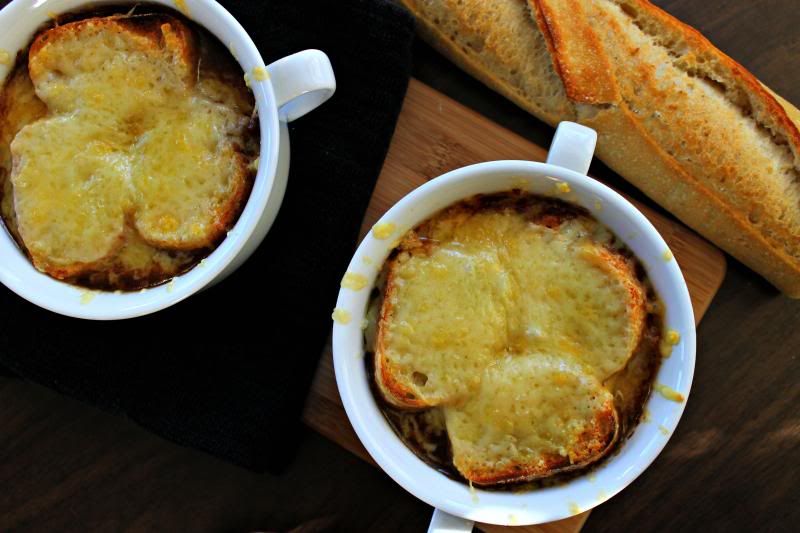 SLUTTY FRENCH ONION SOUP
Slightly adapted from
Tyler Florence's recipe
Makes 6 servings
Prep time: 10 minutes
Total time: 2 hours, 15 minutes
Ingredients:
1/2 cup unsalted butter
4 yellow onions, sliced
2 garlic cloves, chopped
2 fresh bay leaves
2 fresh thyme sprigs
salt and pepper
1 cup bold red wine
3 Tbsp flour
2 quarts beef broth
1 baguette, sliced into 2 inch pieces
1/2 lb grated gruyere cheese
Make:
Melt the stick of butter in a large pot over medium heat. Add the onions and next 4 ingredients through salt and pepper. Cook, stirring occasionally until the onions are caramelized, about 1 hour. The onions should be a deep rich brown color, and very soft. You want them to brown, but not burn.
Add the wine and bring to a boil. Simmer until the wine evaporates, and the alcohol flavor has been cooked out, about 20 minutes.
Discard the bay leaves and thyme sprigs and add the flour. Cook, stirring often for about 10 minutes.
Add the beef broth and bring to a boil. Reduce heat and simmer on low for 20 minutes. Season with salt and pepper.
Preheat your broiler. Ladle the soup into oven safe bowls and top with baguette slices and gruyere. Broil uncovered until cheese is melted and begins to brown, about 5-10 minutes.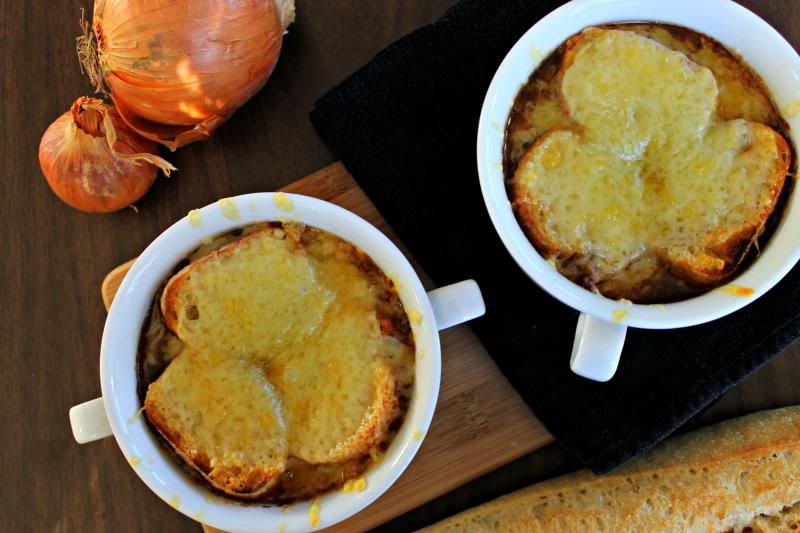 Look at that greasy, gooey, slutty goodness! I may have discovered a new winter tradition around these parts. I had never made french onion soup before and now I think I'm hooked.
Warning: This soup is incredibly delicious, but the aftertaste gives you breath like a demon. Heh.
Trish