Yes, you read that correctly. Sriracha honey freakin popcorn. Totes delicious.
I have this thing with Sriracha, where I like it A LOT! A lot a lot. I find myself constantly wondering if the food I'm eating would taste better if only it had a squeeze of Sriracha on it. I've even put it in yogurt before! So, naturally, I put it on popcorn.
Sriracha honey popcorn
Servings: about 3 small or 2 medium sized bowls.
Hands on time: 15 minutes
Total time: 15 minutes
Ingredients:
1 Tbsp coconut oil (you can use canola or olive oil here too)
1/2 cup popcorn kernels
2 Tbsp butter
2 Tbsp honey
1 Tbsp Sriracha
1 Tbsp salt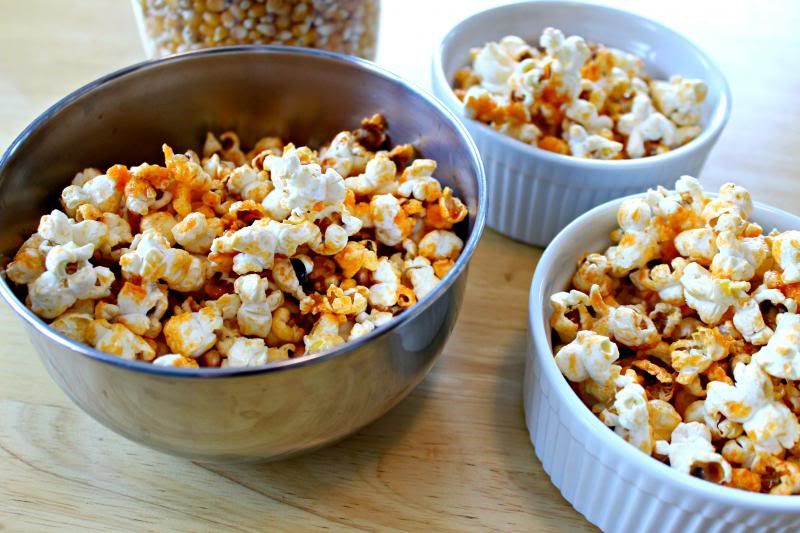 Make:
Heat the coconut oil in a large pot with lid over medium high heat. Add the popcorn kernels, and cover with lid.
In a small saucepan, heat the butter, honey, and Sriracha until just melted together over low heat. Keep warm, while keeping an ear out for popping popcorn.
Once the time in between pops of the popcorn reaches 5 seconds, take off heat. Pour half the popcorn into a large bowl and cover with half of the Sriracha sauce and 1/2 Tbsp salt. Pour the rest of the popcorn into the bowl and cover with the rest of the Sriracha sauce and salt. Give a good stir. Serve immediately.
Are any of you guys Oscar junkies? I adore watching the Oscars, but alas, we do not have cable so we can't watch TV. I watch all my TV online. Anyone know where I can stream it? I'd love to put on some jammies, grab myself a cocktail, and sit down with a big bowl of this while watching the Oscars. Yes please!
Any good Sriracha recipes out there? I'm trying to think outside the box with this stuff. I'm thinking Sriracha pickles, or maybe some sort of sweet and spicy popsicle.
Cheers to Oscars week friends!
Trish