I've got a confession to make. I didn't actually make this soup. My husband did. I went out for happy hour cocktails with an old friend of mine in the afternoon, and wouldn't you know it, this lady got totally obliterated. What can I say? The sun was shining! I just couldn't help myself! We were having another friend over for dinner that night, and when I stumbled home in my drunken state, Jerdy was making this soup for us. I felt the heavens open up and shine down upon us! Needless to say, I let him do all the work.
This soup is wonderful. Creamy, garlicky, savory, wonderful. Paired with some gruyere and mustard, wow.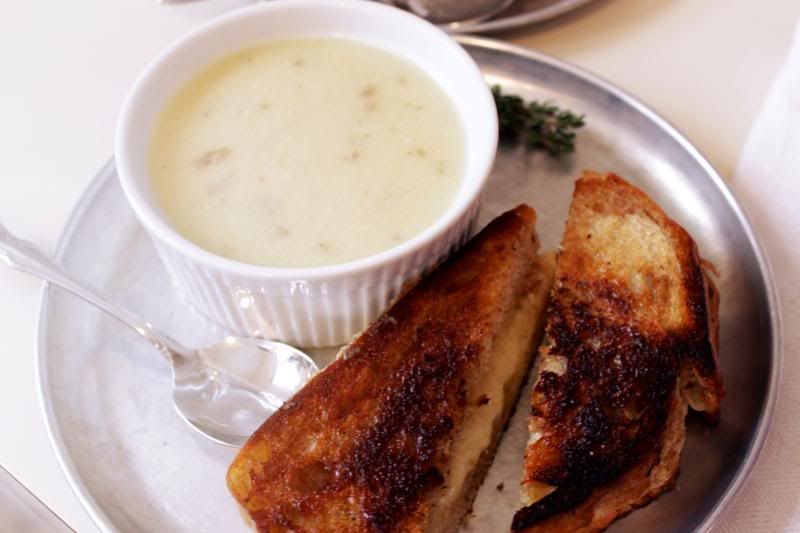 CAULIFLOWER SOUP
Inspired by:
Gourmet Traveller
4 large or 8 small servings
Hands on time: 25 minutes
Total time: 45 minutes
Ingredients:
4 Tbsp olive oil, divided
3-1/2 Tbsp butter
1 onion, chopped
2 garlic cloves, chopped
1 large potato, diced
1 head cauliflower, cut into florets
7 cups chicken stock
1/2 cup grated gruyere
1 cup milk
In a large saucepan, heat the oil and half the butter over medium heat. Add onion, garlic, and potato and cook until onion is translucent, about 7 minutes. Add cauliflower and chicken stock, and simmer over medium heat until potato is tender, about 25 minutes. Puree with an immersion blender (or regular blender in batches) until smooth. Stir in gruyere, milk, and remaining butter. Season with salt and pepper. Serve in bowls with a drizzle of olive oil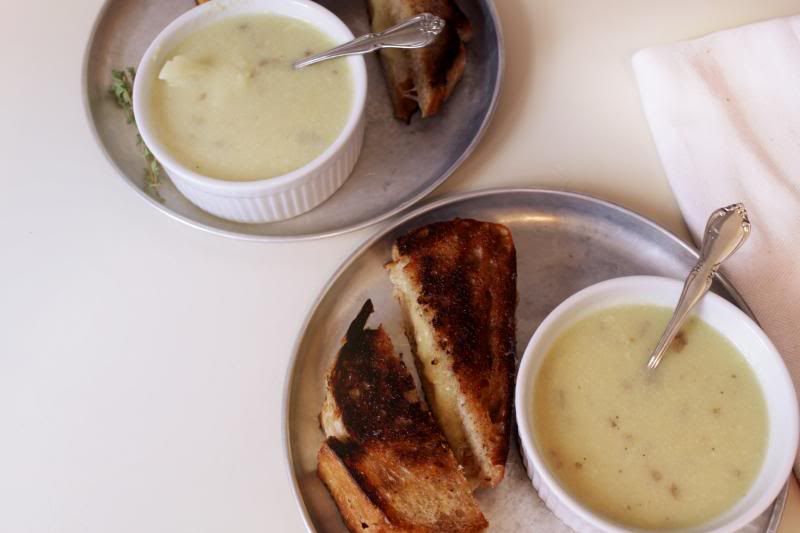 Now, for those gooey grilled cheese sandos:
GRUYERE GRILLED CHEESE SANDOS
Serves 4
Hands on time: 15 minutes
Total time: 20 minutes
Ingredients:
8 pieces of rustic french or sourdough bread
4 Tbsp softened butter
4 Tbsp whole grain dijon mustard
1 cup grated gruyere cheese
Heat a large skillet or frying pan over medium- low heat. Spread 1/2 Tbsp butter on each slice of bread. Do the same on the other side of the bread with the mustard. Place a slice of bread, butter side down, in the warm pan. Top with 1/4 cup cheese, and top with a slice of bread, butter side up. Repeat with the rest of the bread and cheese, but do not overcrowd your pan. You may need to make these in batches. Cover with a lid and let cook, until bread has toasted and butter has fully browned, about 5 minutes. Flip sandwich over and cover with lid again. Let cook until other side has toasted, another 5 minutes. Continue to cook, being careful not to burn, until sandwich is toasted as desired and cheese is fully melted. Remove from pan, and slice diagonally. Serve with soup.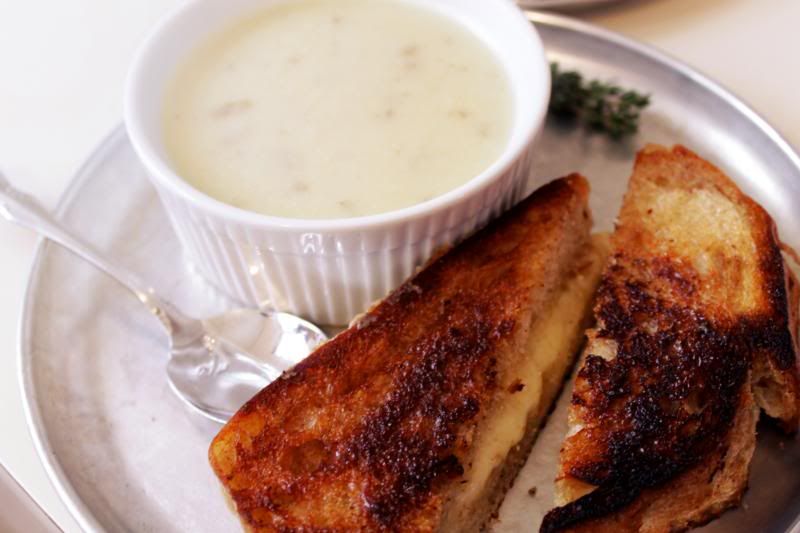 These are marvelous together! These pictures are actually taken the next day, as I was much to schwilly to be taking photos that night!
Happy Sunday friends!
Trish