In this little apartment of ours, granola is necessity. As important as toothpaste or contact solution. Together, Jerdy and I go through 2 of those milk carton boxes of granola a week. I eat 1/4 cup with yogurt every morning, and Jerdy eats THE REST! Wow. Needless to say, it's about time I learned to make my own.
On a whole separate note, I am a coffee LUV-ER! Love that shit. I used to work at a local coffee roaster, where I learned to be a massive coffee snob. I can admit it. What can I say, I like what I like. Granola with yogurt is absolutely nothing to me without my morning cup. I'm seriously worthless without it.
And a star is born: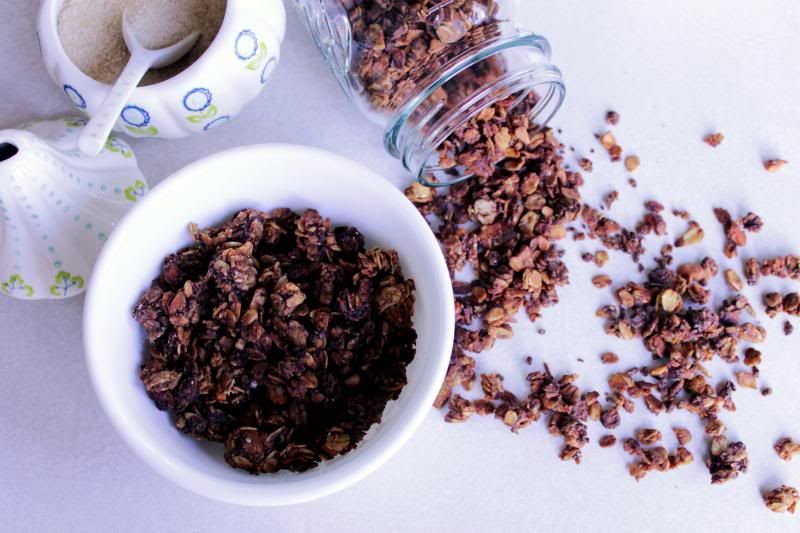 Coffee granola with chocolate and cashews
Inspired by
offbeatandinspired
Makes 5 cups
Hands on time: 10 minutes
Total time: 40 minutes
Ingredients:
3 cups rolled oats
1 cup cashews, chopped
2 Tbsp hot cocoa powder
1/3 cup honey
1/2 cup semi-sweet chocolate chips
1 Tbsp chia seeds
1 cup strongly brewed coffee
Sea salt
Make:
Start by brewing some coffee. I swear by a french press, but any strongly brewed coffee will work.
Preheat oven to 350 degrees f. Line a cookie sheet with parchment paper.
In a large bowl, combine all of the ingredients besides the coffee and salt. Slowly add the coffee, making your granola stick together, but not sopping wet. You may not need the full cup here.
Spread evenly on your lined cookie sheet and place in the oven. Bake for 30 minutes, stirring a few times during baking.
When finished, remove from oven and season with sea salt to taste. Let cool completely.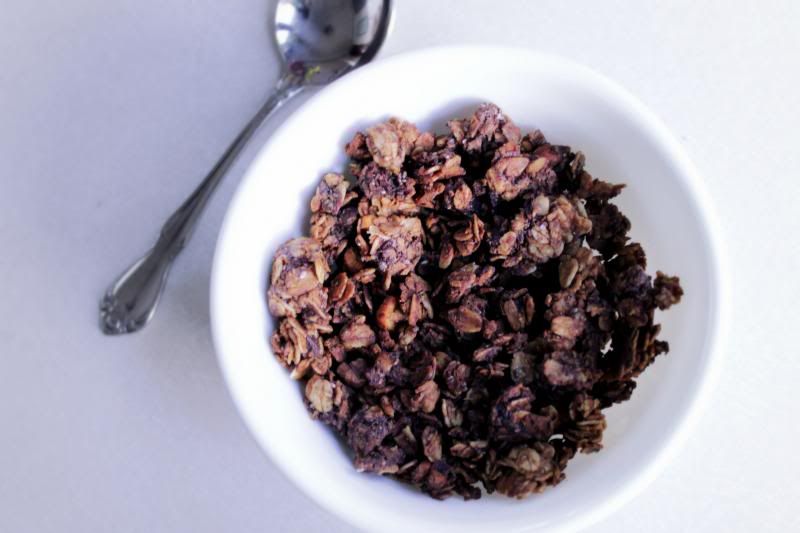 This stuff did NOT last long enough! I am sensing a homemade granola obsession in my future. We got some strawberries in our CSA bin today that would have just been killer on this. So, now I know, to always make a quadruple batch of granola. Live and learn!
Trish