Spring is in the air this week my friends! We had a gorgeous sunny day today. I even carried my coat home. How sweet is that?! I've been noticing the winter produce dwindling and the spring goodies starting to come around. We actually got asparagus in our bin the other day. YESSSSSSSS! I'm sure we are doomed to endure a little more winter around these parts, but hey, the little things right? The little things.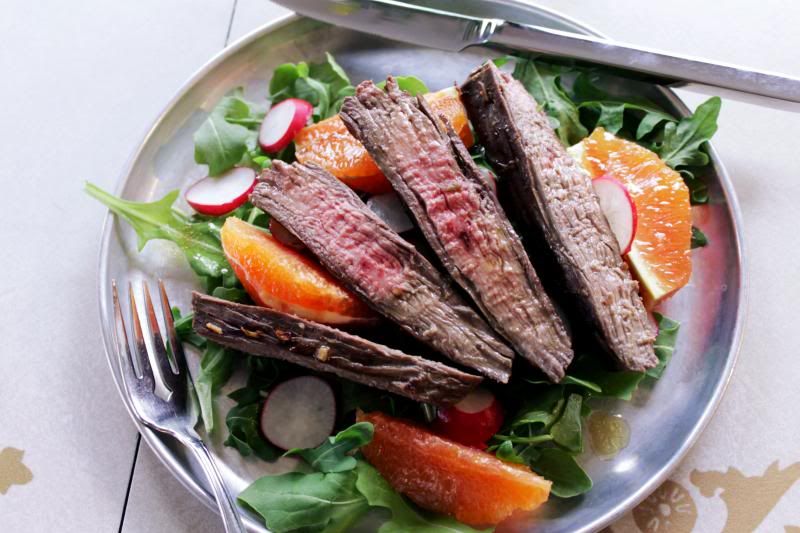 This recipe is the perfect mix of winter citrus and spring bright radishes. Awesome. I used Cara Cara oranges, which have almost a grapefruit color and are less sweet than navels, but you can use any oranges really.
SPICY STEAK SALAD WITH ARUGULA AND ORANGES
Inspired by
Williams-Sonoma
Serves 4
Hands on time: 20 minutes
Total time: 1hr 30 minutes
Ingredients:
1 lb flank steak
1/4 cup soy sauce
4 Tbsp orange juice
6 Tbsp lime juice, divided
1 Tbsp minced fresh ginger
2 clove garlic, minced
1 Serrano pepper, minced with seeds
2 Cara Cara or Navel oranges
1 Tbsp white vinegar
4 cups arugula
4 radishes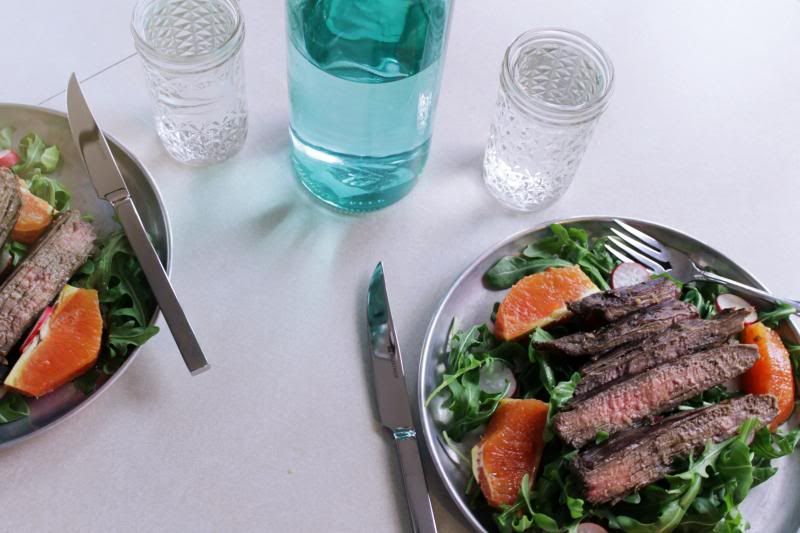 In a tight sealing plastic bag, combine the soy sauce, orange juice, 2 Tbsp lime juice, ginger, garlic, and Serrano pepper. Place steak in bag and marinate in the fridge for at least 1 hour.
Preheat the broiler. Take steak out of marinade and discard marinade. Broil the steak on a broiler pan for about 6 minutes a side, or until desired temperature. 6 minutes per side for about medium-rare to medium.
While that cooks, cut your oranges into 8 sections each. Cut the tops and bottoms off of the orange, and using a knife, slice the peel and white pith off. Cut in half lengthwise, then slice orange into half moons.
Whisk together the remaining lime juice and white vinegar.
When steak is done, take off of broiler pan and let rest for ten minutes. whisk in 2 Tbsp of the juice drippings from the broiler pan into the lime and vinegar dressing. Slice steak across the grain into 1/4 inch slices.
Place 2 cups arugula on each of 2 plates. Top with radish, oranges, and steak. Drizzle dressing over top until desired amount.
Enjoy!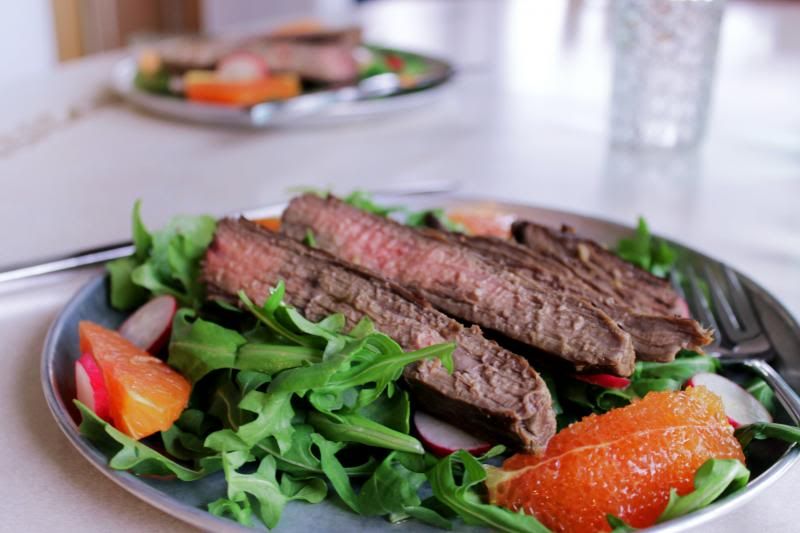 This is definitely one of my go-to salads for spring this year. It's very filling, but really bright and crisp too. I'm in love. I have big dreams for radishes this year. I can just feel it in my gut that they will be my favorite this spring. So be prepared! Radish city.
Happy almost Spring!
Trish