Dudes. GAME OF THRONES! I totally nerded out on it on Sunday. We made a slow cooked batch of chili and watched the last 4 episodes of season 3 before the premier started. I am so pumped for this season. If you've read A Storm of Swords, you know what I'm talkin bout!
This chili was absolutely the shit. It made the night just that much better.
CLASSIC BEEF AND BEAN CHILI
Serves: 10
Hands on time: 30 mins
Total time: 3.5 hours + overnight
Ingredients:
12 oz dry red beans
36 oz water
2 lb boneless beef chuck, cut into 1/2inch pieces
2 Tbp olive or canola oil, divided
1 large poblano chile, seeded and finely diced
1 serrano chile, finely diced (leave seeds in)
1 jalapeno, seeded and finely diced
1 red anaheim chile, seeded and finely diced
2 red bell peppers, seeded and finely diced
12 cloves of garlic, minced
4 Tbsp ancho chile powder, divided
1 Tbsp cumin
1 Tbsp coriander
42 oz canned diced tomatoes
1 Tbsp dried oregano
1 Tbsp smoked paprika
3 cups beef broth
2 tsp salt
3 tsp pepper
Optional (but not really) for garnish:
shredded cheddar cheese
sour cream
cilantro
sliced radish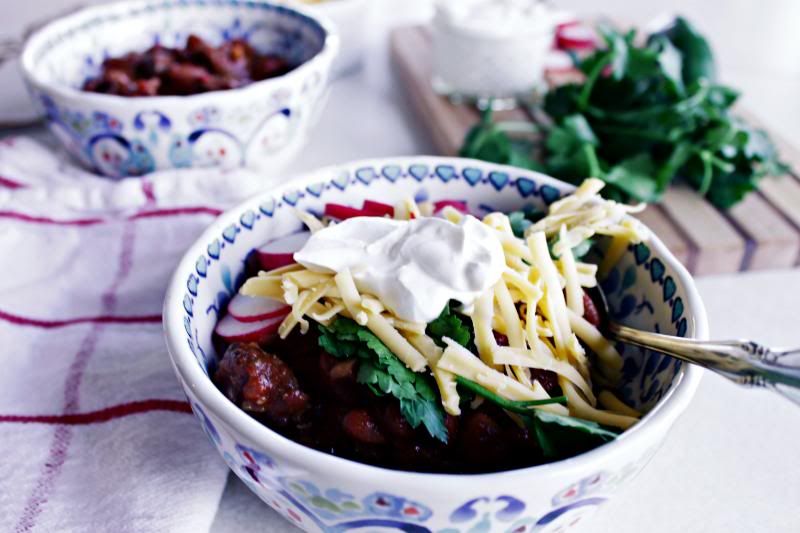 Make:
Place dry red beans in the water and let soak overnight on the counter.
Take beef out of the fridge and bring to room temperature. Place beans in a large soup pot and set aside. Heat 1 Tbsp oil in a large skillet or frying pan over medium-high heat. Season beef with salt and pepper and place half in the skillet. Brown the meat, about 5 minutes, and transfer to the pot with the beans. Repeat with remaining beef.
Heat 1 Tbsp oil in the skillet. Add the chiles, peppers, and garlic. Cook until browned, about 5 minutes. Stir in 1Tbsp chile powder, cumin, and coriander. Cook until dry, about 2 minutes, scraping browned bits.
Transfer to soup pot with the beef and beans. Add all of the remaining ingredients through salt and pepper, and bring to a boil. Cover and simmer on medium-low until beans are soft and meat is very tender, about 2.5 hours. Take the lid off of the pot, and simmer for another 30 minutes, or until chili thickens. Take off heat, and serve with cheese, sour cream, cilantro, radish, and a large serving of cornbread with butter and honey.
The smoked paprika is really the shining star! This is absolutely my new go-to chili recipe. So homey and perfect for Sunday supper with some wine and some good R rated HBO.
Who is your fave GOT character?! Tyrion? Arya? Joffrey (NOOOOOOOO!)?
Have a good Wednesday guys,
Trish