You know what you need? More red wine in your life.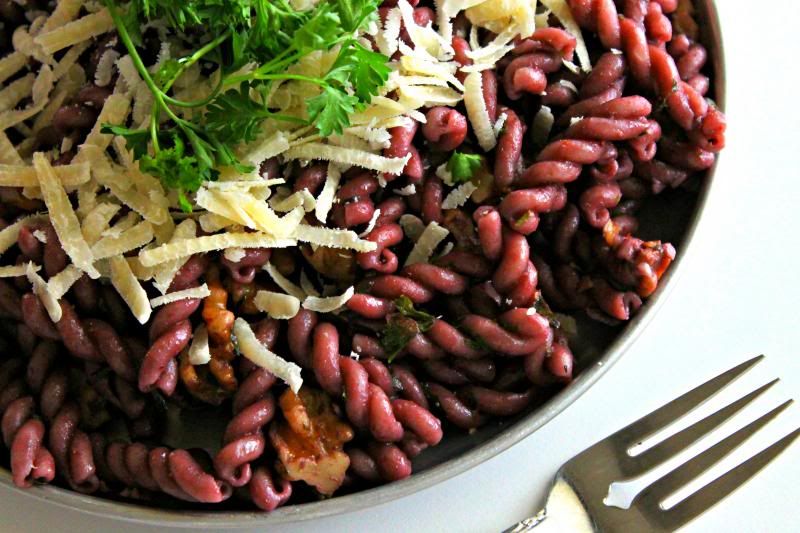 See that purple pasta? That was normal pasta color before I cooked it. Before it got drunk on wine! I've actually wanted to try red wine pasta for a while now, but I never had the heart to use a bottle for cooking. I gotta say, it hurt my heart a little to do it. WHAT DOES THAT MEAN? That I'm a mega alchy? That I'm totally cheap? Yeah, probably both. I made it through though, and I am SO glad I did. This pasta is bold and rich, and yet the wine taste is really subtle.
I don't usually make Jerdy dinner. We usually do the whole 'one person does dishes while the other cooks' dance around dinnertime. Then Jeopardy time. But, he's been working his man booty off at work with overtime. I treated him to a night off. I felt so romantic serving him this "fancy" meal! I think he was more blown away than he should have been. Along with actual wine glasses (which never happens at our house!) at the dining room table. Wow. What a night!
RED WINE PASTA WITH HERBS AND TOASTED WALNUTS
Inspired by
Food and Wine
Makes: 4 servings
Hands on time: 25 mins
Total time: 40 mins
Ingredients:
5 cups water
3 1/4 cups red wine (a little over a bottle), I used
House Wine Red
Salt
3/4 lb twisty pasta or penne
1/4 cup extra virgin olive oil
4 garlic cloves, thinly sliced
1 tsp crushed red pepper
1 tsp dried rosemary
2 tsp dried thyme
1/2 finely chopped fresh parsley
1 1/2 cups walnuts, coarsely chopped and
toasted
1 1/2 cup freshly grated parmesan cheese
Black pepper
Make:
Bring the water, 3 cups of wine, and a large serving of salt to a boil in a large pot. Add the noodles, and cook according to package directions. Before straining, reserve 1/4 cup of the liquid.
In your large pot, heat 2 Tbsp of the olive oil. Add the garlic, red pepper, and some salt and pepper. Let cook for about 30 seconds, trying not to burn the garlic. Add the remaining wine and the reserved pasta liquid and bring to a light boil. Add the pasta and cook for a few minutes until the liquid is almost absorbed. Stir in the herbs, nuts, and 1 cup of the cheese. Season with salt and pepper.
Serve with the remaining olive oil and cheese.
Well, these drunk noodles are pretty tasty. Not sure when I'll make them again, since I'd rather drink the wine than eat it. Just being honest here. :)
Happy weekend everyone!
Trish