I'm going to admit something. Here goes. I've never been on a diet. Not really. Not a real one anyways. I've tried counting calories, working out, eating a lot of salad, but never ever ever have I been on a diet. I hate that word. It's pure evil to me. It just tells me what I can and cannot do, and I have always had a problem with authority. But....... after 32 years, I need to change something up. My "fat" jeans just keep becoming my "skinny" jeans.
This April I decided to not go on a diet, but work on balance. Balance my sugar and caffeine addiction with healthier foods and drinks, balance my couch time with movement, balance my work with play.
Here are my major goals for April:
Get moving: Just 20 minutes, 4 times a week.
Cut out sugar from my morning coffee, no soda, and no candy from the register at my work.
Read at bedtime rather than messing around on my phone.
Drink enough water
I am a total soda fiend. I have been since I was a kid. I am cutting that shit out. I love it, but god I hate it too. Surprisingly, this has been the easiest to get around. I am finding the bedtime phone time the hardest to let go of. Guess I'm more addicted to computers to sugar.
To balance, I am allowing myself as much honey as I want. YESSSSSS! I know, I know. This is not exactly the lowest in calories. But, balance friends..... not that evil diet remember?! First, I'll cut out the processed, refined sugar, then I'll work on not eating too much of a good thing. Baby steps.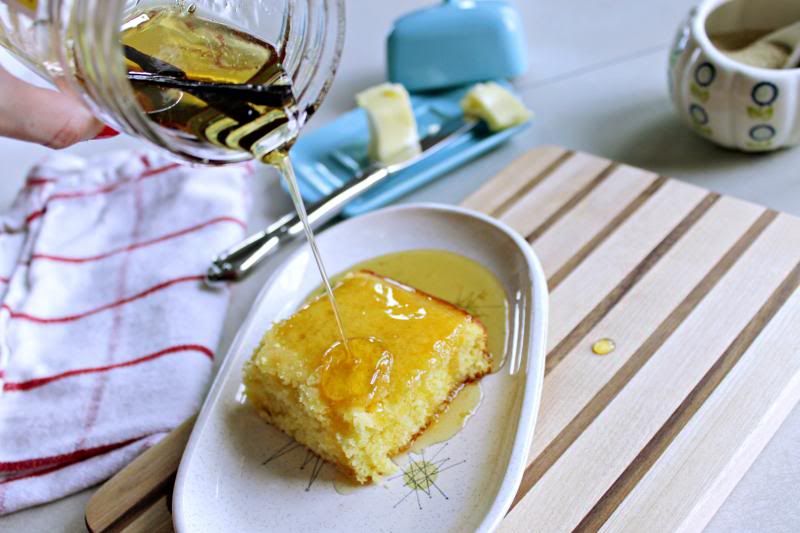 I've fallen for raw honey in a great way. The
benefits
are extraordinary. We went through about a jar a week over the winter drinking
Korean honey tea
, which at this point is a wonderful jam like substance. Just as it should be. I intend to use it over the summer for iced tea. It will be incredible, and just as sweet and delicious as iced tea with refined sugar.
We made a
big chili feast
for the Game of Thrones premier, and of course, to us, that meant cornbread and honey HAD to be a side. The next day, we had a ton of cornbread leftover. It was screaming for some sweet honey on it. So, I infused some with vanilla.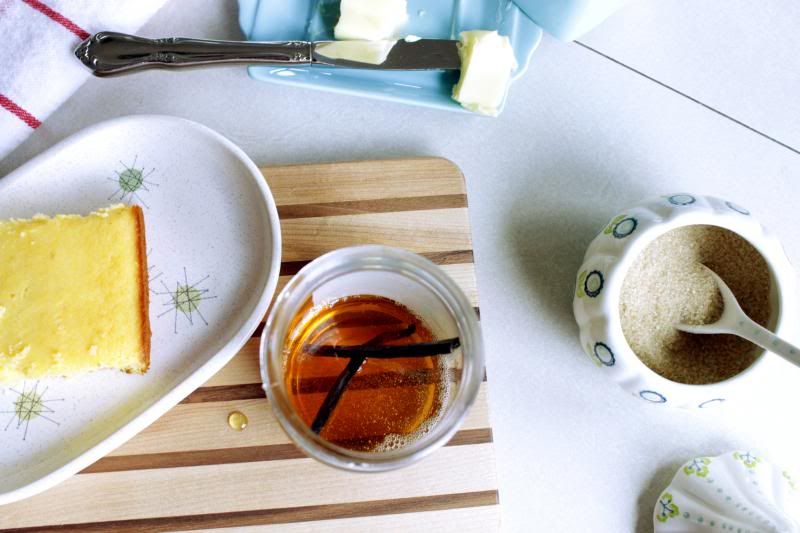 VANILLA HONEY
Makes: 1 cup
Hands on time: 10 minutes
Total time: 10 minutes
Ingredients:
1 cup raw, unfiltered honey
1 vanilla bean, cut in half
Make:
In a small saucepan, warm the vanilla and honey over low heat. Stir often, to avoid letting the honey boil. Heat for about 10 minutes, or until the vanilla has infused the honey with as much vanilla flavor as you like. Take of heat and pour into a clean glass jar with the vanilla beans. Let cool, and serve with cornbread, yogurt, granola, tea, whatever you like with honey.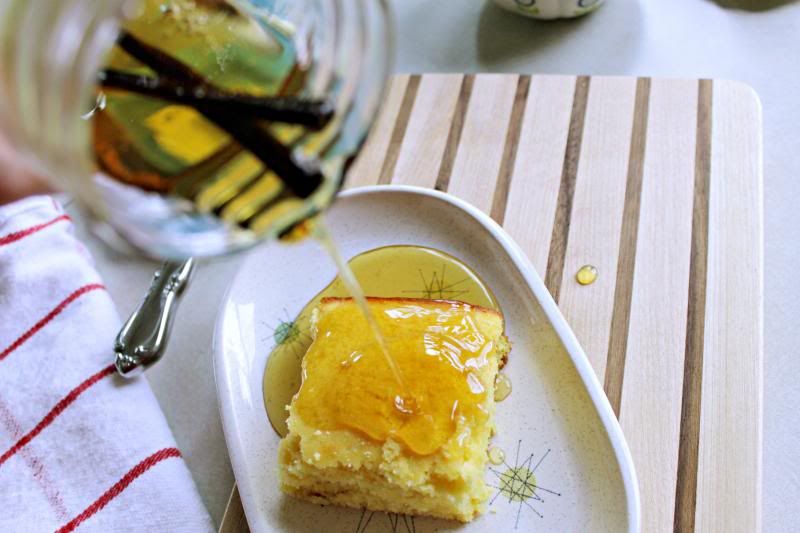 Totally delicious.
If I reach my goals this month, Jerdy and I are going out for a lunch, with burgers, fries, and cherry coke. My hope is that I find it way too sweet, but if not, just one a month is success in my book right now.
Any suggestions for taking baby steps toward balance? Any April goals? I'd love to hear them!
Trish