Don't be afraid my friends. Come over to the
dark
veggie burger side.
Every Sunday we have some of our best good friends over for dinner and GOT night. (Ahem, Game of Thrones, to those of you who might not be total nerdburglers). It's become one of my favorite nights of the week. First, some fun lovin wine drinkin and food eatin. Then, some gruesome, exciting, and sometimes pretty sexy TV viewin. The dudes that come over freakin love it. Know what else they love? Man food. AKA, meat.
I suggested these burgers as our GOT dinner this past Sunday. The response was total confusion and a bit of shock! I think they thought I was joking. One actually asked if we could have "real food" instead. Pretty sure I left them speechless. Needless to say, we had "real" burgers (beef burgers) and left it at that.
Well guys, here are those burgs. In slider form. They look pretty real to me. :)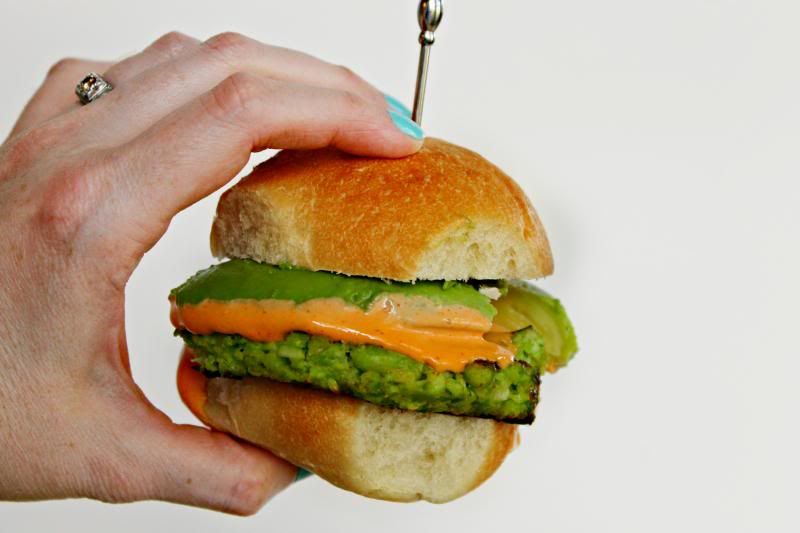 EDAMAME SLIDERS WITH SRIRACHA MAYO AND AVOCADO
Makes: about 12 large sliders
Hands on time: 30 minutes
Total time: 30 minutes
For the burger patties:
30 ounces cooked mukimame (shelled edamame), divided
1/2 yellow onion, diced
6 garlic cloves
1/2 cup fresh cilantro
1 cup panko breadcrumbs
1 tsp cumin
1 tsp freshly grated ginger
1 Tbsp pepper
1 Tbsp soy sauce
1 Tbsp Sriracha
1 egg
2 cups flour
2-3 Tbsp canola oil or olive oil, divided
For the slider toppings:
12 slider buns
1-1/2 cups mayonnaise
1/2 cup Sriracha sauce
3 avocados, sliced
Make:
Blend together 2/3 of the mukimame and next 7 ingredients (through pepper) in a food processor. Stir in remaining whole mukimame, then stir in soy sauce, Sriracha, and egg. Using your hands, form mixture into slider patties about 3 inches wide and 1 inch thick.
Heat 1 Tbsp oil in a large skillet over medium high heat. Place flour in a wide bowl. Dredge a patty in flour and add it to the skillet. Repeat until you fill your skillet, but don't overcrowd. Cook until browned, about 5 minutes. Flip burgers and cover skillet with a lid. Cook until burgers are cooked through and crispy, about another 5 minutes. Continue cooking burgers until mixture is gone.
Meanwhile, stir together the mayo and Sriracha and slice your avocado. This may be a good time to toast your buns too if you want to get fancy.
Place a slider patty on a bun bottom. Top with 1 Tbsp Sriracha mayo, 1/4 of an avocado, and the bun top.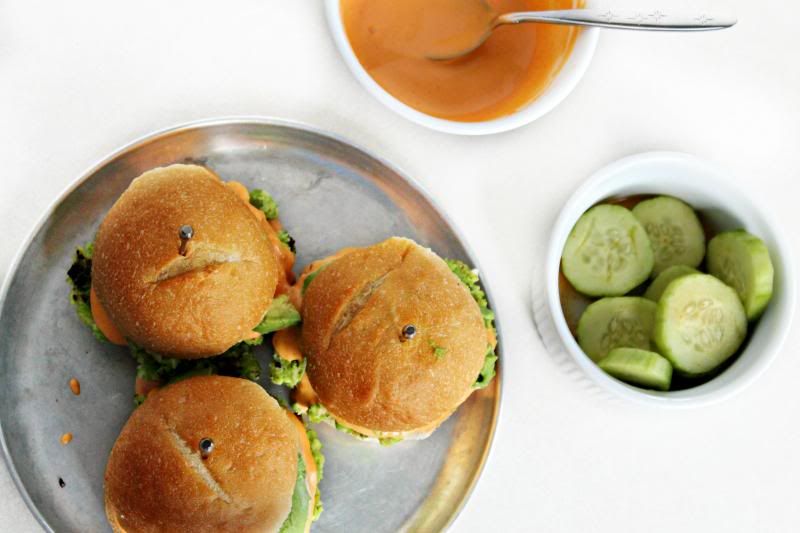 This is one of the most interesting things I've made in a while! I loved trying something new, but the recipe definitely needs to be perfected. If you try this out and can think of anything, please let me know!
Enjoy your Thursday friends.
Trish