The ultimate Spring salad. Ultimate Mother's Day salad. Ultimate super salad.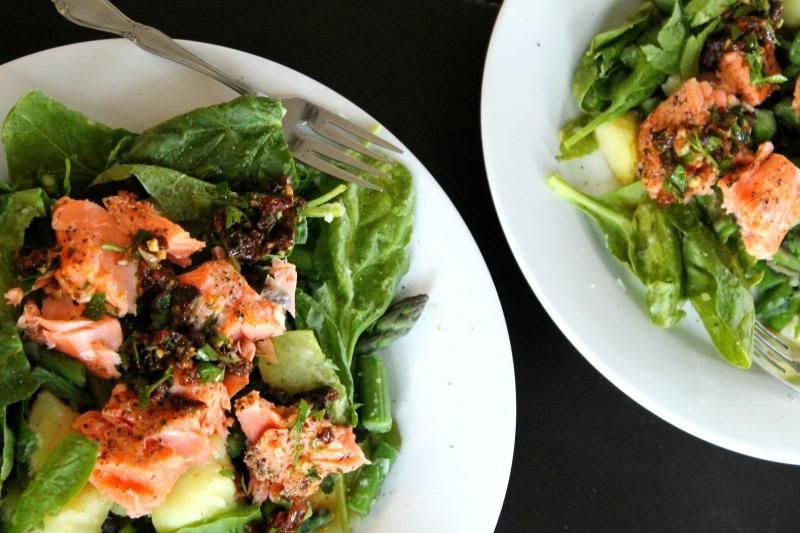 This salad is the SHIZNIT folks! Totally in love with it. It's like, potato salad, but, like, not, you know? It's a salad with potatoes. and salmon. and asparagus. mmmmm........
Every time I eat salmon around these parts, I feel like one very lucky lady. We really do get the creme-de-la-creme of the pink dudes over here. Or maybe that's Alaska. But whatever. WE GET REALLY AWESOME SALMON! We don't normally turn it into a salad, but this time we did. Pretty sure you already know by now what I thought of it.
SALMON, POTATO, AND ASPARAGUS SALAD WITH SUN-DRIED TOMATO DRESSING
Inspired by:
Williams Sonoma
Serves: 4
Hands on time: 30 mins
Total time: 30 mins
Ingredients:
1 Lb wild salmon fillet
Salt and pepper
3 medium-large yellow potatoes, washed and cut into 1 inch cubes
1 Lb asparagus, trimmed and cut into 1 inch pieces
4 cups spinach leaves, washed and torn
4 dry sun-dried tomato halves
2/5 cup extra virgin olive oil
3 Tbsp fresh lemon juice
1 Tbsp finely chopped fresh parsley
1 Tbsp finely chopped fresh dill
1 garlic clove, minced
Make:
Preheat the oven to 400deg F. Boil a pot of water for potatoes, get your steamer basket ready, and bring about a cup of water to boil separately.
Generously season the salmon with salt and pepper. Fold the thin ends under to make salmon an even thickness and place in a roasting pan. Bake until opaque in the center, about 10 minutes. Let cool.
Meanwhile, place the potatoes in the boiling pot and boil until tender, about 15 minutes. Strain and let cool.
Meanwhile, steam your asparagus in a steamer basket until tender, about 3 minutes. Rinse with cold water and set aside.
Meanwhile, pour the cup of boiling water over your dried tomatoes and let sit for 5 minutes. Drain and finely chop. In a small bowl, combine tomatoes and rest of ingredients through garlic. Whisk together quickly to create a vinaigrette and season with salt and pepper. Toss with spinach leaves.
Cut salmon into 1 inch pieces. Add potatoes and asparagus to salad and toss gently. Top with salmon.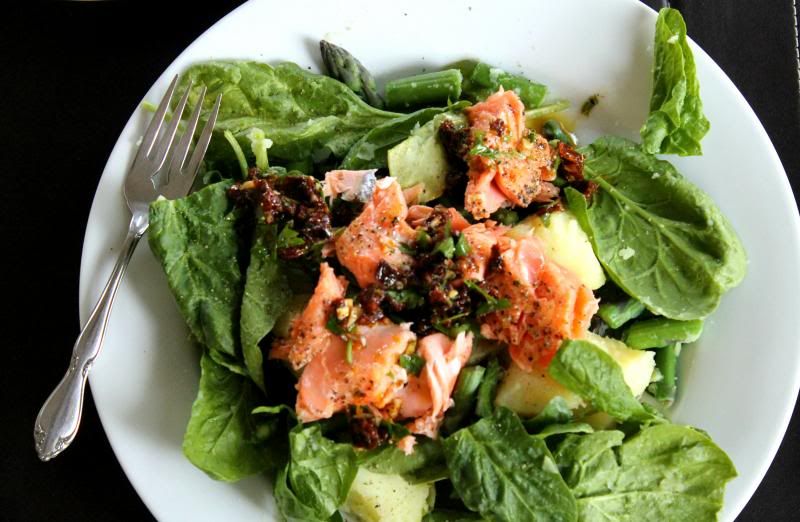 VOILA! An awesome Spring salad.
Anybody got any big plans with the mamas out there? Any mamas planning a grand day? Jerdy and I are having both our mamas over brunch on Sunday. Which might be weird and awkward because they have only met once at our wedding. But hey, mimosa city right!? I am going to try my hand at some baked french toast. Something I have always wanted to try. Fingers crossed.
Happy mom's day everybody!
Trish
P.S. Don't forget to enter the
moscow mule mug giveaway
!