Guess what? I made my first quiche!
Huzzah! I used a store bought crust though. Wah-wah. Still ended up super super tasty. This may be my new spring obsession. Or..... almost summer obsession. Times have still been really busy, with Jerdy working 70 hours a week or so. I didn't end up making all those egg recipes
I mentioned last week
, but I am still on this crazy egg kick. SO weird. I have never been a huge egg lover, but I just can't get enough of these things!
In other JellyBones news....... I have done it. I have started a WordPress blog. A clean slate. I haven't designed it or posted anything over there yet. Still wanting to get it right before I launch. But the countdown for the decline of JellyBones begins....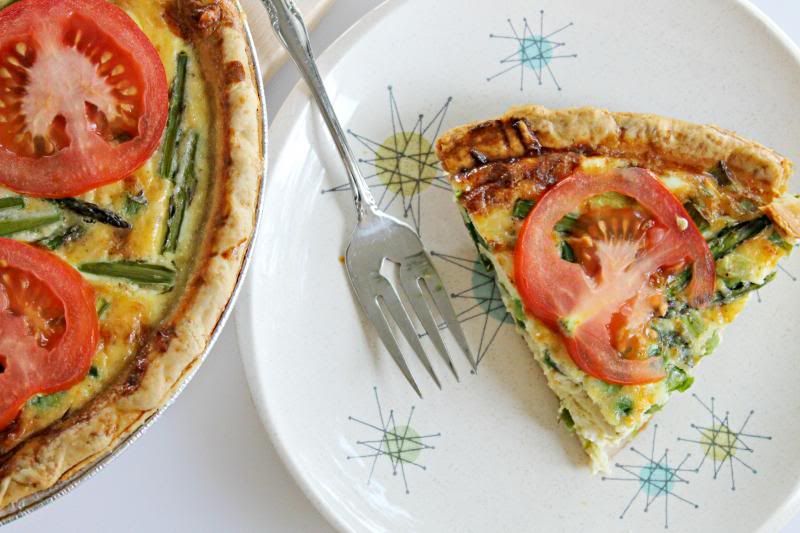 SPRING QUICHE WITH ASPARAGUS, PEAS, AND GRUYERE
Inspired by:
Real Simple
Makes: 5 servings
Hands on time: 10 minutes
Total time: 1 hour 10 minutes
Ingredients:
1 9" store bought pie crust
1 cup grated gruyere cheese
3/4 cup frozen peas
1 cup chopped asparagus
1/4 cup chopped green onion
3 large eggs
1-1/2 cups half and half
salt and pepper
1 tomato, sliced
Make:
Preheat oven to 375f, and move the rack to the lowest level. Spread cheese on the bottom of your pie crust. Evenly spread peas, asparagus, and green onion on top.
Whisk together the egg, half and half, and a generous dash of both salt and pepper. Carefully pour into pie crust. Cook uncovered for 45 minutes, or until top is browned and a toothpick comes out clean. Let cool 15 minutes, and top with fresh tomato slices.
You know what this was missing? BACON! Everything is better with bacon huh? Unless you're vegetarian, then, well, probably not. Next time though.... next time.
Have a great week friends!
Trish