Hey dudes. Missin ya this summer.
RACHEL
! This one's yours you daydreamer you.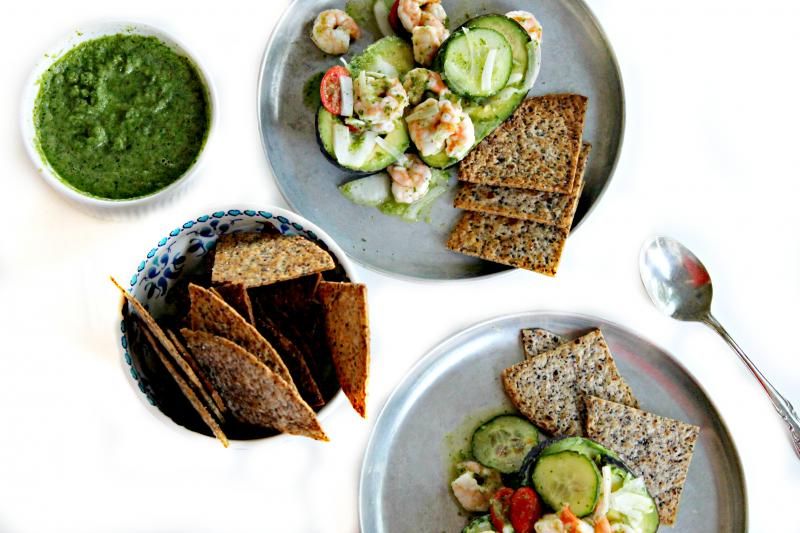 You know what I totally missed in my "it's summer so bloggie time takes a back burner" haze? JellyBones turned 2! Can't believe it's been 2 years since I started this little ole blog. July 1st actually. I may do a birthday post, I may not. Thought I'd give it some sort of shout out though. Blogging has been a bit sparse here lately. I actually took all summer off of blogging last year and I'm starting to remember why. It's hard to make time during July! Plus those summer cocktails kick in and all that food just doesn't get photographed. Wah-wah. I digress.
Anyone made ceviche before? This was my first time! Quite possibly the easiest and freshest summer food you'll ever make. Another first for me..... homemade tortilla chips. Seriously..... what the hell have I been doing for the last 32 years!? I'll never buy tortilla chips again! Well, I probably will. But you get the idea.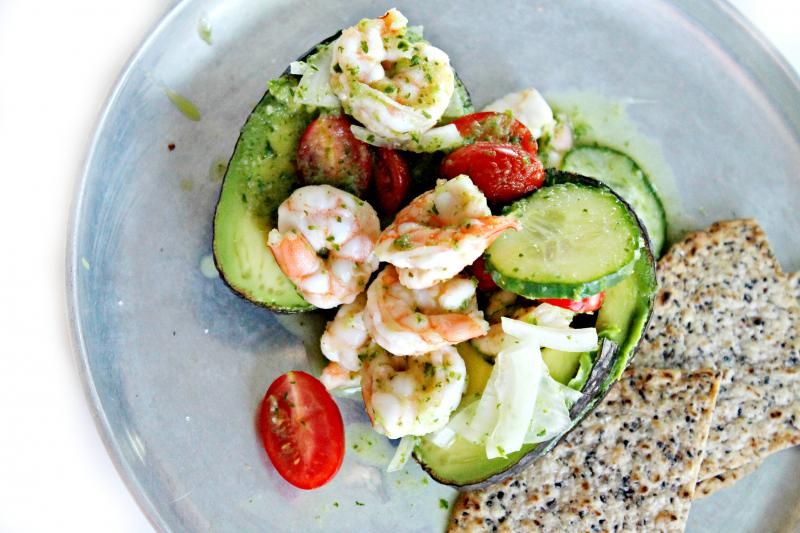 SHRIMP CEVICHE IN AVOCADO CUPS WITH AGUACHILE AND TORTILLA CHIPS
Inspired by:
F&W
and
Rachel
Makes: about 6 stuffed avocado halves and 32 tortilla chips
Hands on time: 30 minutes
Total time: 2 hours, 30 minutes
Ingredients:
1 lb good quality wild caught raw shrimp, peeled and deveined (don't go cheapo with this one peeps)
1 cup fresh lime juice
8 small tortillas (I used
blue corn/flaxseed medley
)
About 1/2 cup + 1/2 Tbsp canola oil
Salt
1 serrano pepper, seeds and all
1 whole english cucumber, 1/4 thinly sliced and 3/4 seeded and cut into 1 inch pieces
1 garlic clove, smashed
1/4 cup lightly packed cilantro
1/4 cup lightly packed parsley
1 Tbsp fresh mint leaves
2 Tbsp water
3/4 cup thinly sliced sweet or red onion
1 cup cherry tomatoes, halved
3 large avocados, halved and pit removed
Make:
Start by making your shrimp. Pour lime juice over shrimp in a medium sized glass bowl and give a good stir. Cover and place in fridge for 2 hours, stirring about every 20 minutes
Make your tortilla chips: Preheat your oven to 375 degrees. Cut tortillas into 4 slices like a pizza. Spread evenly on 2 baking sheets, making sure to not overlap. Generously brush canola oil (reserving 1/2 Tbsp) onto tortilla slices and top with salt. Flip and repeat on other side. Bake for about 15 minutes or golden brown.
Make your aguachile:: Blend serrano, 3/4 of the cucumber, garlic, cilantro, parsley, mint, 1/2 Tbsp oil, and water in a blender. Season with salt.
When shrimp are opaque and pinkish, drain all but 2 Tbsp lime juice and combine with remaining cucumber slices, onion, and tomatoes. Add aguachile to taste, I used about 4 Tbsp. Fill avocado pit holes with ceviche and serve with tortilla chips.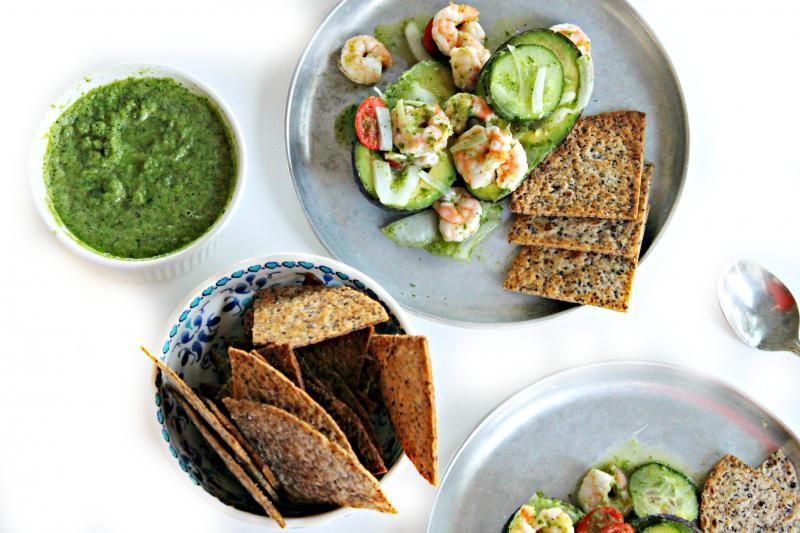 Well, I've come a long way since my first post,
honey pineapple rhubarb popsicles
. Cripes those photos are bad. I know I'm still learning and I'm far from being pro, but I'm proud of the accomplishments this blog has made over the last 2 years.
Cheers to you
Rachel
! Thanks for the inspiration!
Happy July friends.
Trish